18 plus-size women of color to follow on Instagram who will inspire your style game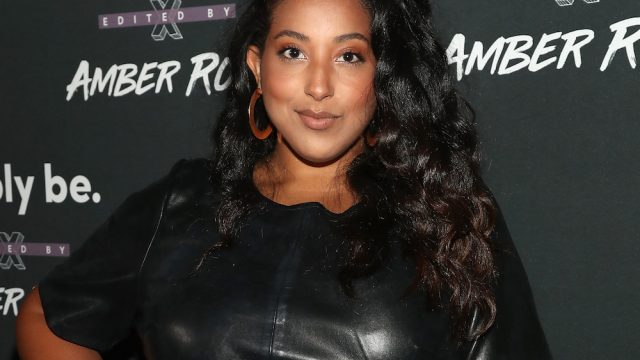 Let's be real—plus-size fashion doesn't get the spotlight it deserves, even though 68% of women in the United States wear a size 14 and above. Usually, the plus-size section of a brick-and-mortar retail store is just a limp add-on: two to three sad racks of super plain, matronly versions of the "straight-size" options. Even inclusivity champion Rihanna skimped on providing her plus-size customers equally dope lingerie through Savage x Fenty.
Online, the plus-size fashion game lives mostly through Instagram. Fashion gurus from all over the world are putting together high-caliber looks, mixing pricier options from Maria Rinaldi or Universal Standard with budget-friendly staples from Forever 21 Plus or Fashion Nova Curve. Some, like blogger Gabi Gregg and cultural commentator Ashleigh Tribble of AshleighChubbyBunny, made the jump to designing clothes themselves, or altering existing pieces to accentuate their curves. On plus-size fashion Instagram, we even get upper echelon, next-level makeup looks that compete with the dopeness of each outfit.
The prospects might look bleak industry-wide, but luckily our Instagram feed is poppin' and we're here to guide you down the yellow brick road of Fat Femme Oz. We've rounded up 18 influencers who have been flooding our timelines with one fuego look after the other. We intentionally chose to focus on women of color, who typically don't get the same amount of clout or paid fashion collaborations as their white counterparts. The women on this list are so gorgeous, powerful, and fly that you'll never question a thicc girl's ability to slay ever again. Scroll through the list below and smash that follow button for continuous style inspo.
Tbh, it was hard to pick just one of her iconic looks to feature since Naomie is constantly slaying. Her feed is the perfect inspiration for casual looks dressed up with a good smize.
This blue-haired Malaysian beauty constantly dazzles with effortless beauty looks and eclectic fashion pairings.
https://www.instagram.com/p/BrpwYHQB4g2
Each of Enam's images features unexpected pairings like silver sequined dresses at the beach and rhinestone-studded eyelids paired with cheetah print.
Alex's page gives us a wide range of outfit ideas for the office, date night, the gym, and more.
https://www.instagram.com/p/Btu-xNqFMn_
If you're looking for proof that funky blue geographic eyeliner, a cowboy hat paired with angel wings, or crop tops with unexpected underboob could all look stunning, look no further. Kaguya's page serves alllla that, plus a side of sizzling lingerie shots.
https://www.instagram.com/p/BtdmxBIHyVi
We're the first in line for Audrey's Thick Girl Thirst Trap Masterclass. Baby girl is oozing curve appeal with every single look.
https://www.instagram.com/p/BrVytfjhdwC
She's the iconic face of the Universal Standard ad that broke the internet. La'Shaunae has a wild talent for putting together looks with bold patterns, colors, and layers.
File under: How to look carefree, cool, and chic when you're booked and busy.
https://www.instagram.com/p/BuCff3JAzFP
Alexa, play "Hair Body Face." Trans model Ceval combines statement pieces, killer makeup, and flawless bone structure to serve each of her iconic looks.
https://www.instagram.com/p/BuPD4K2lP6H
Raven switches effortlessly from streetwear to ultra-feminine ensembles, and we drool every time.
https://www.instagram.com/p/BtCGcZQHrZw
The epitome of Eurasian cool, Lovisa's attitude shines through with every look.
A Muslim feminist advocate, Leah keeps her looks modest but FAR from boring. She shines from her hijab down to her toes, and we're here for it.
https://www.instagram.com/p/BvzWipmnLP-
British model Vivian went viral after appearing in the ASOS swimwear collection. Her page is perfect for anyone looking to add a little zing to everyday pieces.
Stacey's makeup game is OUT OF THIS WORLD. She isn't afraid of bright green shadows, pink and purple highlighters, and blue eyebrows, and every risk pays off.
https://www.instagram.com/p/BuJ2liTBHtE
Imagine walking into the pool and watching your frenemies' jaws drop as you walk in with this cover-up. Osha's page oozes finesse all around.
Bronx-bred Latinx goddess Jessica GIVES US LIFE. Her feed is full of travel outfit inspo lately, but she keeps it real about #brokegirlfashion, proving that some of the best looks come together through sheer resilience.
Featured frequently on The Thicc Gram, Kendra's signature looks are usually pared down and natural. Every now and then, this beauty graces us with full-on vintage glam.
We're convinced that the color pink was invented so that Jay Miranda could wear it. Follow this babe for endless pink-on-pink ensembles.