I didn't fit into my wedding gown—and I didn't care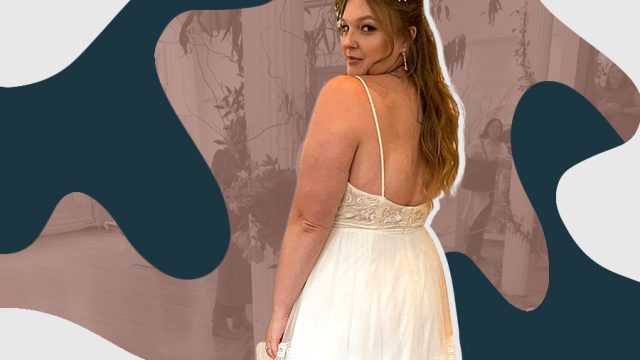 Approximately 68% of women in America are considered plus size, yet there's a clear lack of representation in the fashion industry and a lack of shopping options for this majority. In Plus Size Diaries, columnist Olivia Muenter dives into all things plus size, from voicing her thoughts and sharing personal experiences, to calling out the fashion industry and speaking about plus size-culture at large. This month, Olivia shares what she learned about body positivity when trying on her wedding dress, and realizing it didn't fit.
After I got engaged, but before I fully dove into the process of wedding planning, I joined a handful of wedding planning Facebook groups. While each specific group had a primary focus (I particularly loved the one for plus size brides), they all had one thing in common: They were intended to be a judgement-free space for wedding advice, feedback, and venting. Thanks to these groups, I consumed countless horror stories from other brides before I even stepped foot in a wedding dress store. I read about alterations gone wrong and incorrect sizes being ordered; I knew that there were a million ways for wedding dresses to ultimately not fit. And though I dealt with my fair share of body image and disordered eating struggles in the past, I was finally in a place of peace when it came to my body and weight. Sure, as someone who was a size 16, wedding dress shopping intimidated me—but I also felt prepared.
I did the research, steeled myself for the worst possible scenario, and most importantly, I was determined to not be my own worst enemy. I refused to buy a dress in a smaller size as a "goal" or motivation to lose weight, and I refused to spend the months between purchasing my dress and my wedding dieting and miserable, even though that would have been my first instinct in the past. When I went wedding dress shopping, my experience wasn't perfect, but I was able to find a dress I loved in a sample that actually fit me and I happily put in my order. For the next three months, I lived my life as usual, and when I got the call that my dress was ready, I confidently walked in the store. I excitedly slipped it on, anxious to see the gown I loved once again. And it was too small. 
https://www.instagram.com/p/B75-cI7nEJ0
The dress zipped, but barely, and though I still loved how it looked, both the store associate and I knew it wasn't the right size. I conceded that I may have gained weight (I stopped regularly weighing myself and obsessing over the number years earlier), and the associate noted that she thought the brand may have sent the wrong size—that maybe instead of sizing up from the sample, they sized down. The store was nice enough to call the brand, and the brand was nice enough to alter the dress, and we were all lucky enough that there were still seven months until my wedding day. I walked out of the store feeling a little disappointed that I couldn't bring my dress home, but I also felt…at peace.
Granted, I may have felt differently had my wedding been in seven weeks instead of seven months. But still, trying on my wedding dress only for it not to fit was my absolute worst nightmare at one point in my life. There were entire decades where that single experience would have been a surefire way for me to spiral into starving myself, overexercising, or both. Instead, I simply accepted that the dress needed to be fixed, and that we would figure it out.
I was calm, and it felt strangely powerful.
This was the first time I really believed that the last two years of trying to accept myself at any size actually paid off. It felt liberating to separate how clothing fit me from my self-worth–especially when, according to many people, this was the most important piece of clothing I'd ever wear in my life. It was the most concrete example of how body positivity and radical self-acceptance changed my life. I looked back on all the work it took to stop dieting, overexercising, and hating my body (and it took, and still does take, a lot of work), and felt like I accomplished something in a way that no amount of weight loss had ever made me feel.
Now, months later, my dress is still hanging in my closet at home, and it's the right size. I used to think that for a piece of clothing to be the correct size it had to be a single digit—a lower number than whatever size I wore last year. Now I know that the real definition of the correct size is simply one that fits me and makes me feel good.