This pink suit changed the way I thought about plus-size clothing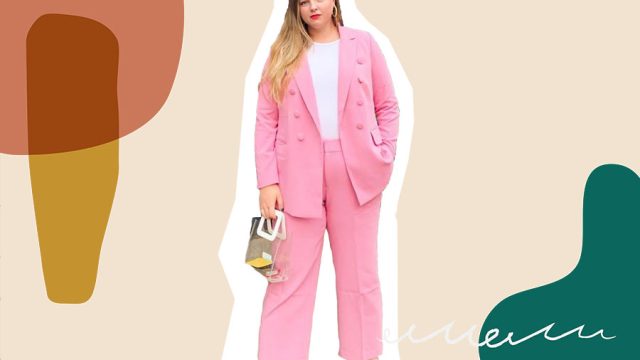 The first time I remember telling myself I couldn't wear a certain type of clothing was in middle school. I can vividly recall being at the mall and seeing other girls wearing ultra-short denim skirts with spaghetti-strap tops and feeling bitter that I "couldn't." From my very warped teenage perspective, my body wasn't "good enough" for either item. This is my first memory of policing my body and deciding what I could and couldn't wear based on my own perception of my body, but it was far from the last. When I graduated college and started wearing plus sizes more often than straight sizes, the same pattern continued. I told myself my stomach wasn't flat enough for a bikini, or my thighs weren't small enough for denim shorts.
The truth is that when you're plus-size, society does this for you. Antiquated ideas about what people with larger bodies should and shouldn't wear are everywhere, and they're reflected more than anything in the fact that most brands don't even have sizing for people above a size 12 or 14. And while it's taken a couple of years of concerted effort to finally get to a place where I ignore those outdated messages more often than not, there are still certain types of clothing that give me pause.
Up until recently, the idea of wearing head-to-toe bright colors or suits seemed off-limits to me.
I may not have admitted it, but the truth is that I was afraid I'd look too big and bulky—that I'd take up too much space, draw too much attention to myself.
And then I tried a hot pink suit from Eloquii.
The brand offered to gift me some pieces, and as soon as I saw the double-breasted blazer and pants set, I knew I wanted to try it. When it arrived at my door and I tried it on, I loved it immediately. I had a work trip coming up and happily packed the suit in my bag for networking events I had lined up. When the time came to get ready for a work event (one where I knew exactly zero people), I put on the suit, looked in the mirror, and hesitated. I was wearing the suit with heeled mules, bringing me to well over 6 feet tall. I was a size 16/18, and I was wearing hot pink head-to-toe. I knew I would stand out of the crowd, and it scared me. But I wore it anyway. At this particular event, I was the tallest person, the only plus-size individual, and oh yeah, I was wearing a hot pink suit—and I felt great.
The entire experience was a reminder that it's in all of our power to take control of the narrative that tries to dictate what we're "supposed" to wear and what we're not. We're all worth making the conscious decision that the only factor determining whether or not we wear a certain item of clothing is whether or not we like it. It's not always easy, but it's worth it. And sometimes it results in wearing a kick-ass, hot pink suit, and feeling good as hell while doing so.
While the pink suit I wore is no longer available, see below for similar pieces:
1Eloquii Double Breasted Blazer With Tie
$72 (orig. $120)
Shop it
Available at Nordstrom
2Eloquii Windowpane Trouser