Plus-size model Tess Holliday explains why it's empowering to use the word "fat"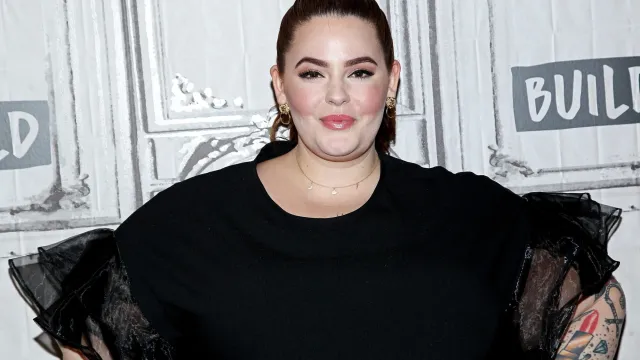 It's an uphill battle for most of us to accept and love ourselves for what we look like, but fortunately, the body-positive movement is working to make it easier — and so are people like model Tess Holliday. On Thursday, June 28th, Holliday opened up in an interview with Megyn Kelly about what it means to address herself as "fat," and her words are seriously inspiring.
During an appearance on the Today Show, Holliday — who is the cover model on SELF's first digital issue — spoke about why she uses the word "fat" to describe herself as a body-positive activist. This isn't the first time she's talked about trying to de-stigmatize the negative words that people use to put other people down, but her latest explanation might really hit home for you.
Holliday says that by using the word "fat," she's reclaiming it from people who have used it against her — now, it can be something positive that she attributes to herself.
"You know what guys, I am fat, but I am also a redhead, and I'm a mom, and I'm a pizza enthusiast," she told Kelly. "It's just how I choose to describe myself, and there's no shame in it for me. By reclaiming the word and basically telling other people you can be who you want to be, there's no shame in it. If that's how you're happy, then do you." false
She's right — no matter what you look like, you're so much more than just your appearance. Whether or not you feel like "fat" applies to you, you shouldn't be ashamed of all the qualities that make you who you are. Choose whatever words you like to describe yourself that make you feel good, no matter what other people might think.
Holliday is known for speaking out about what it means to be a plus-size woman in 2018 and paving the way for other women who feel the same way she does, but these latest comments really drive the point home. We love that she is so open about her beliefs and who she is — hopefully it will make more people feel comfortable doing the same.