This "plus-size" model recreated a bunch of Victoria's Secret ads, and SLAYED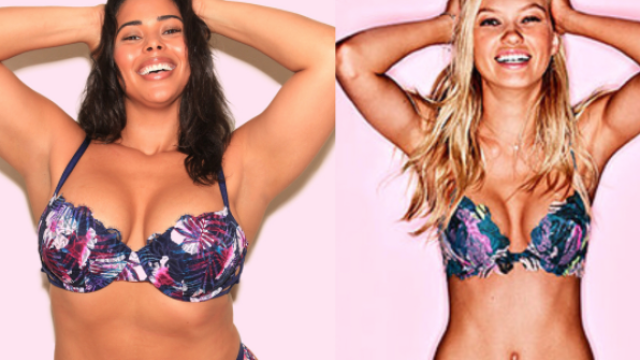 Many bra-shoppers are aware that Victoria's Secret carries a wide array of lingerie sizes in their stores. So where is the representation in their ads? That was the question one "plus-size" model posed when she recreated several Victoria's Secret ads in a personal photo shoot.
New York-based model Tabria Majors specifically wanted to prove that "curvy girls can rock (and sell)" the company's lingerie just as well as the usual models they hire. Majors gathered her VS merchandise and recreated ads we've seen online and in magazines. Stringing the photos together in an Instagram collage, Majors captioned the post,
"Maybe I'll be a Victoria's Secret Angel this year for Halloween, since it ain't happening in real life lol."
Majors talked to HuffPost Canada about why she decided to stand up to Victoria's Secret lack of inclusivity. She explained that the lingerie brand has been a staple in fashion for so long but they keep getting away with the same size "formula" in their ads time and time again.
"I really want to open the discussion of inclusivity in mainstream media," Majors said. "I just want to know why they, and so many other companies, don't cater to the average-sized woman."
Other lingerie retailers like Lane Bryant and Aerie have begun including women of diverse shapes and sizes in their marketing campaign. In 2015, Lane Bryant even launched a campaign called #ImNoAngel in an effort to call Victoria's Secret out on their lack of inclusivity.
"The main argument I've heard is that it's expensive, time-consuming, and companies don't have the proper resources to expand their sizes," Majors told HuffPost Canada. "I personally don't believe that, primarily because the plus-size industry brings in billions of dollars each year, and the potential profit companies would make should counter any of their hesitations."
And popular brands are listening. In fact, Majors is currently a finalist in the 2018 Sports Illustrated Swim Search.
Times are changing for the better, Victoria's Secret. It's time to create ads that represent all women.