8 Plus-Size Lingerie Brands That Show Curvy Women Some Serious Love
Because every body is sexy.
It's about time we had growing inclusivity in the fashion industry—especially for people of all body shapes and sizes. Plus-sized clothing is just one area of growth, and thankfully, the options for curvy ladies are slowly becoming more diverse and adventurous. However, plus-size lingerie options are often still limited. Even when some brands offer plus-size options, they tend to be less risqué and colorful than the straight-size varieties offered in the same line. Fit is also a huge issue, especially when fast-fashion brands use cheaper materials and garment construction.
If you're frustrated with the lack of supportive, well-fitting, and playful lingerie options available, we hear you. That's why we reached out to a few plus-size lingerie brands to see how they've been tackling the technical fit and style issues prevalent in the industry and included some of the best options to shop.
Cute plus-size lingerie brands you can shop now:
1. Playful Promises x Gabi Fresh
Gabi Fresh Aspen Mustard Lace Sling Bra
$$39
Shop it
Playful Promises
London-based design house Playful Promises has been offering super-cute plus-size lingerie options for years, notably through its collaboration with Gabi Fresh. Founder Emma Parker says,
"At Playful Promises, our philosophy is that we make products with the same aesthetic across core and curve sizing so the design process is the same." The design team makes sure styles are staying consistent across its size range, while the technical team crosses the finish line by providing the right materials for support, such as "stronger, rigid liners, power meshes, wider elastics, and thicker gauge wires."
Sometimes brands struggle with offering plus-size lingerie simply because the design process is so technical, time-consuming, and expensive. Prototypes are typically made in sample sizes—typically size small or medium, or dress sizes four or six—then computerized tools calculate measurements for other sizes. It's almost like playing a game of telephone. If plus-size clothing is so far removed from the straight-size prototype, then we can't expect the nuance of fit to be communicated clearly.
2. Bare Necessities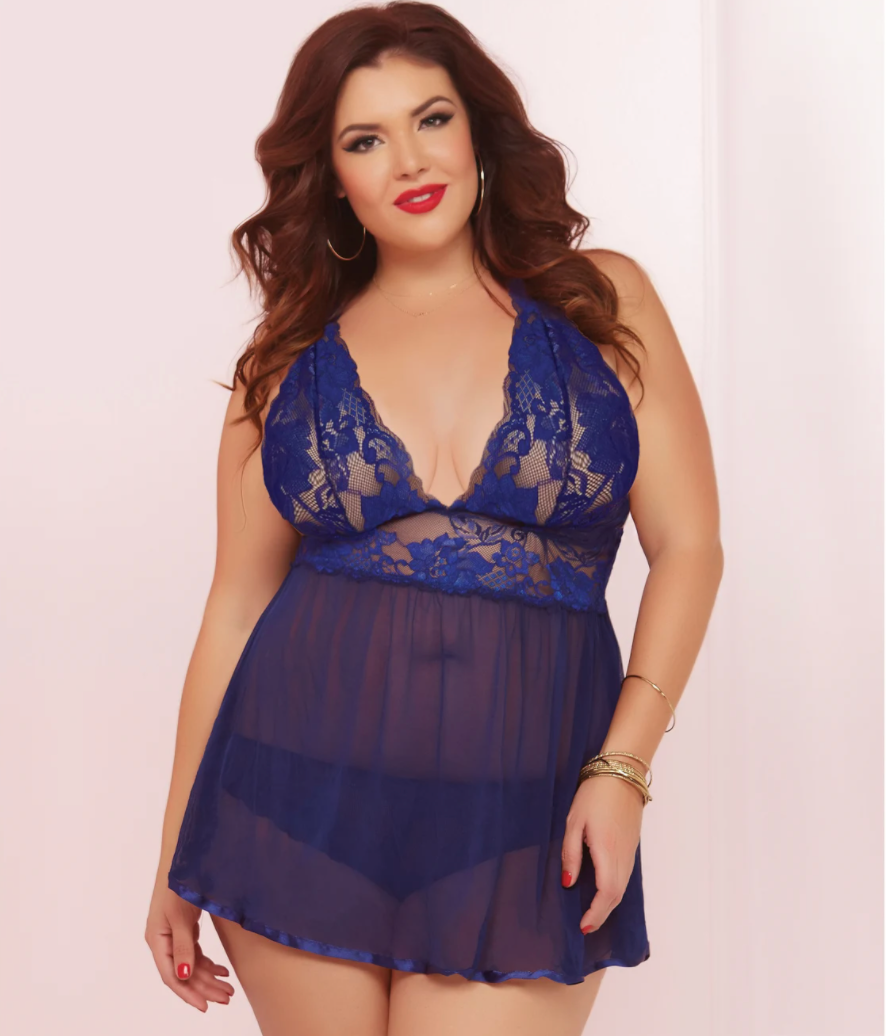 Seven 'Til Midnight Plus Size Wondrous Wire-free Babydoll Set
$$38
Shop it
Bare Necessities
Moira Nelson, director of design and product development at Bare Necessities, uses her 20 years of expertise in the industry and her own experience as a plus-size bra wearer to inform the brand's in-house line, Camio Mio. "We're deeply engaged in the entire design, development, and fit process, and have stringent quality requirements," she says. "We fit numerous sizes on a variety of body types. Every style is fit multiple times, and corrections are made until it is perfected in each size." They make cute lace babydolls, teddies, and more.
3. Savage X Fenty
Commitment Issues Suspender Body Stocking
$$49.95
Shop it
Savage X Fenty
Though Rihanna's Savage X Fenty line initially faced some backlash for its larger-sized lingerie options being less revealing and playful than the standard sizes, it has come a long way since its 2018 launch. The brand is committed to celebrating fearlessness, confidence, and inclusivity while disrupting traditional beauty and body norms, and now there are tons of fun, sexy lingerie items to choose from on the site. The items range from size XL to 3X and up to a bra size of 42H.
4. Oh La La Cheri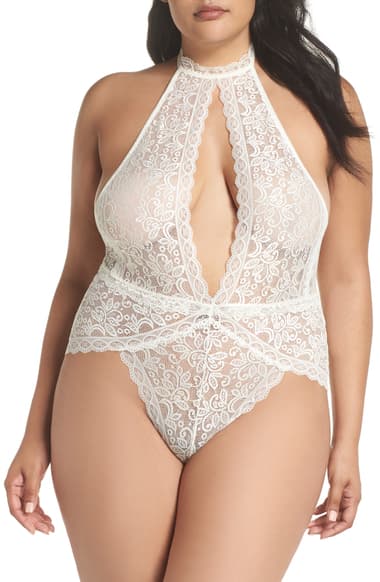 Plunge Keyhole Lace Teddy
$$44
Shop it
Nordstrom
This French-inspired lingerie line is offered in a variety of styles for all body types including plus-sizes. They have a designated curve section designed specifically for women with fuller busts that smooths, lifts, and flatters, plus plenty of sexy lace teddies, nightgowns, bodysuits, and more that offer inclusive sizing and quality construction.
5. Figleaves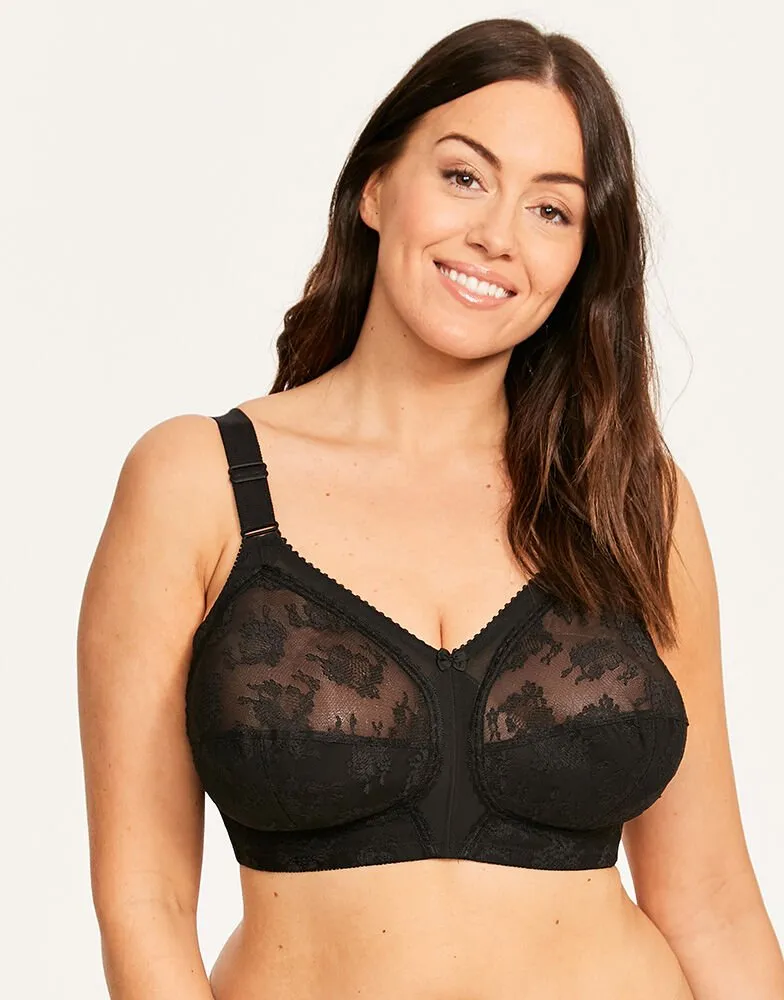 Triumph Doreen Bra
$$42
Shop it
Fig Leaves
Physical retail space can also be a barrier to size-inclusivity. Brick-and-mortar stores have limited storage and merchandising space to be able to include as many sizes as possible. That's why lingerie and shapewear online retailer Figleaves is changing the game with over 130 sizes in bands 28-52 and cups A-K.
Zoe Norman, Figleaves' lead lingerie buyer, says, "Because bras come in a huge range of sizes, when you combine the bands with the cups, it's a hard category in terms of stock." If you only carry three sizes of T-shirts, for example, it's so much easier to keep track of how much inventory you have. But Figleaves' band and cup options alone mean that they have to account for 132 different sizes in their inventory. "Since Figleaves is exclusively online, we have the benefit of 'unlimited space,' where we don't have to worry about the constraints of a sales floor," says Norman.
6. Torrid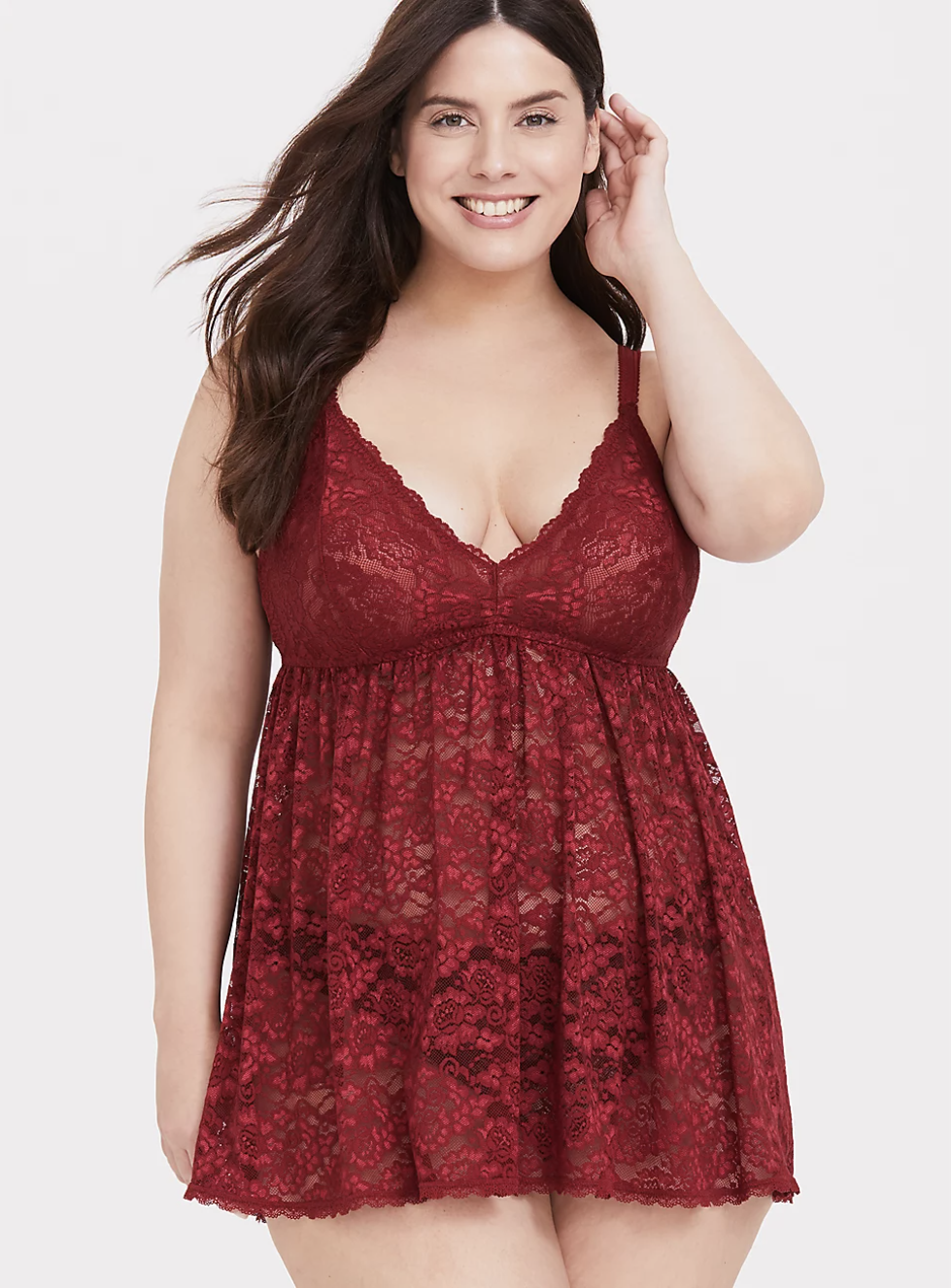 Dark Red Lace Babydoll
$$44.90
Shop it
Torrid
Torrid's affordable, plus-size fashion is beloved by curvy girls everywhere, and its lingerie selection does not disappoint, either. From bras and panties to cute lace babydolls like this one, its options are sexy and flattering.
7. Cacique by Lane Bryant
Lace No-Wire Babydoll
$$59.95
Shop it
Cacique
The women behind Lane Bryant's intimates brand, Cacique, want you to feel just as good in your underwear and lingerie as you do in your clothes. They also want your underwear and lingerie to fit just as well. Knowing that curves and contours make every body unique, Cacique developed a "fit database" of 2,000 women who test every style of bra and panty before it makes its way to your body. You can tap into Cacique's fit guide before making a purchase to make sure each piece you buy will hug you (and support you) just right.
8. ASOS Curve
Ella Lace Triangle Bra
Shop it
ASOS
ASOS's curve line offers chic yet affordable options in plus-sizes including this gorgeous lace bralette that is available up to size 44K.
Needless to say, we're glad these brands are making progress.
While so many hurdles keep us from the provocative lingerie looks that plus size women deserve, it's encouraging to see brands working toward optimal fit within their entire size range. We can only hope that other brands are taking notes—because the job of making the lacy, mesh cups that are meant to cradle our boobies is no joke. Brands need to be showing us how precious our bodies are by designing lingerie with proper fits for all bodies because, yes, they're beautiful.