Sweatpants can be considered stylish on skinny people—but for fat people, it's a different story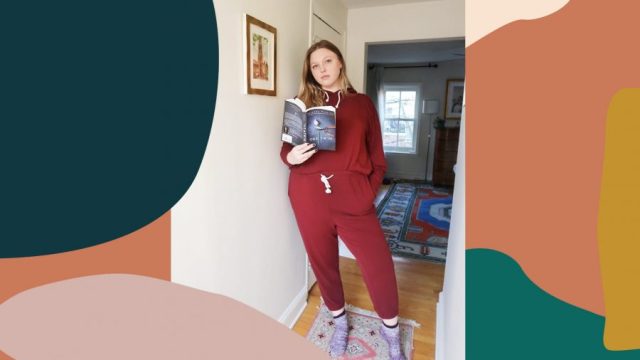 Approximately 68% of women in America are considered plus size, but there's a clear lack of industry representation and shopping options for this majority. In Plus-Size Diaries, columnist Olivia Muenter dives into all things plus-size, from sharing her personal experiences to speaking out about plus-size culture at large.
If you've been on the internet lately (given the current state of the world, I'm willing to bet you have), odds are you've seen a "quarantine diet" meme or two by now. Maybe you've scrolled through jokes about how now's finally the time to get the "summer body" you've always wanted, or how the most terrifying part of the coronavirus (COVID-19) outbreak is how much weight you might gain by the end. There are scores of these jokes floating around right now, but the underlying narrative of all of them is this: Even during a global pandemic, women are still being told that they should be thinking about their bodies.
Just yesterday, I was scrolling through my Instagram feed when I saw a post from a bathing suit brand that said, "Want to stop eating? Try wearing a bikini at home instead of sweatpants." Ironically, the post was wedged in between seemingly endless posts from influencers shilling their favorite at-home loungewear. Most of these round-ups and affiliate links include—you guessed it—a lot of sweatpants. And here's the thing: Sweatpants are great. They're cozy, versatile, and, as of very recently, pretty trendy, too. It's hard to go to any online retailer and not see coordinated sweatpants and hoodie sets splashed across the home page. It's a universal truth that sweatpants are beloved by most people.
But in a current internet landscape filled with fatphobia and diet culture, it's worth talking about the fact that sweatpants on thin people are often associated with effortless, casual style. Sweatpants on fat people, though, are treated a little differently.
Take the simple fact that one common piece of advice when it comes to weight loss is to simply avoid sweatpants at any cost. If you've ever been told to lose weight (by your parents, your partner, or society in general), then you've probably heard something like this before: "The more elastic you have in your clothes, the harder it is to tell if you're gaining weight." It only makes sense then that, for a long time, sweatpants were associated with laziness, sloppiness, and giving up. Think of Regina George in Mean Girls. The character unexpectedly gains a few pounds and is promptly humiliated for wearing sweatpants. "But these are the only thing that fit me right now…" she says, devastated. In the movie, the character is still thin by any standard, and yet the sweatpants are the official signal to her that some real damage has been done: that she's "fat."
Since that movie came out, how we discuss bodies and weight as a society has changed fairly drastically. Notably, sweatpants are actually pretty trendy now—no longer something that is only associated with weight gain or laziness. These days, when thin people wear them, they're often hailed as effortlessly chic or as emulating off-duty celebrity style (just look at the wardrobe of literally any Kardashian or Jenner). But quite often, the stigma for fat people still remains.
This isn't to say that plus size people can't or don't wear sweatpants and loungewear as well as a straight size person. They do, and I know this because I've been inspired to buy countless lounge pieces by other plus-size influencers—like Jessica Torres, Kellie Brown, and Michaela McGrady—who style them in creative and stylish ways. This is to say that loungewear, like so many aspects of fashion, is still loaded for many plus-size people.
As a size 16/18, when I wear sweatpants or an oversize hoodie, I often worry that people will think that I simply can't find anything else in my size or that I'm lazy. I worry that my outfit won't be seen as cozy or trendy, but as disheveled. This preoccupies my mind because I've been told what every curvy person has been told that they must do to be stylish: Highlight the smallest point of your waist, stand up straight, avoid shapeless clothing, swear off stripes, and disguise your stomach. These are all things that, I'm sure, most straight-size people have never had to think about all. Even as someone who considers themself to be fairly confident and body positive, being stuck inside all the time (and wanting to wear nothing but sweatpants) has brought back those same feelings that I'm somehow careless or unkempt. That's the thing with fatphobia: It somehow creates judgment for something as simple as wanting to be comfortable during a global crisis—whether you realize it or not.
But it's also true that the more you break the rules about what plus-size people should or shouldn't wear, the more you see that these rules are just a social construct—and the less you care what anyone thinks. So, for now and for the foreseeable future, I plan on wearing sweatpants (and whatever else I want to wear, too).