PLL's Troian Bellisario and Patrick Adam's first wedding dance is almost too perfect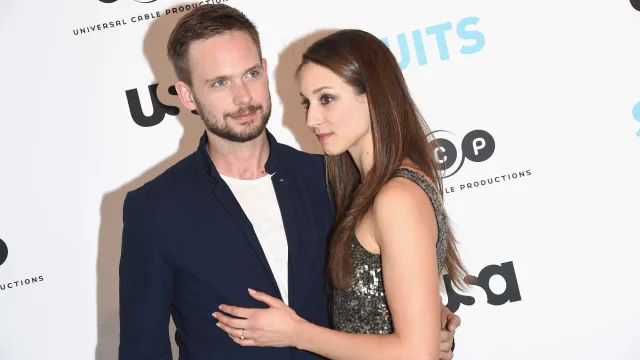 Aah, star-crossed lovers— not as in damned with bad luck but a romance that occurs between two stars. This type of love has happened between Pretty Little Liars star Troian Bellisario and Patrick J. Adams of Suits, who got married on Saturday. The two talented and gorgeous (and amazing and perfect and… I could go on forever…) actors had a camping themed wedding in Southern California, according to Us Weekly. And Troian Bellisario and Patrick Adams first wedding dance was the icing on an already delicious cake.
Based on all of the pictures of the Bellisario-Adams wedding, it basically looks like a bohemian-nymph-princess-hiker's dream, and we're so excited for the happy couple, and maybe slightly perturbed that we didn't get to go. The couple had the most romantic first dance, according to this Instagram which shows them dancing to Etta James's "At Last:"
Thanks to the wonderful world of Instagram tags, the whole ceremony and celebration can be found with the hashtag #fortday2016. Goals-worthy pictures like this one:
https://www.instagram.com/p/BN5LrtQg_31
And this:
Candles, wooden chairs, giant oaks towering over the aisle, and gorgeous ferns all make the scene an idyllic woodland wedding, and we are totally obsessed.
And then, of course, there was the Pacific Ocean:
https://www.instagram.com/p/BN2zUpqgqs-
Back in August, Adams told ET that he wanted to keep things very private.
"We're going to make sure that everyone finds out about [the wedding date] long after it happens
Of course the nuptials weren't kept private for long, and we're so glad we weren't kept waiting to see those gorgeous photos. And just because we can't get enough, here's one more:
Major marriage goals right there. Congratulations, guys!