We'd like to put this artist's playful patterns on everything we own
Philadelphia-based artist Kendra Dandy is the Queen of Patterns.
With her eye for uniqueness and whimsical proclivities, Dandy designs pieces that redefine what it means to be a print. Sorry polka dots and stripes – but now, we much prefer donuts with eyes and zebras sporting pink bouffant hairdos.
To explore the world of Ms. Kendra Dandy, we reached out to her with a bunch of questions she was kind enough to answer. So, let's see what it takes to make these imaginative patterns a creative reality.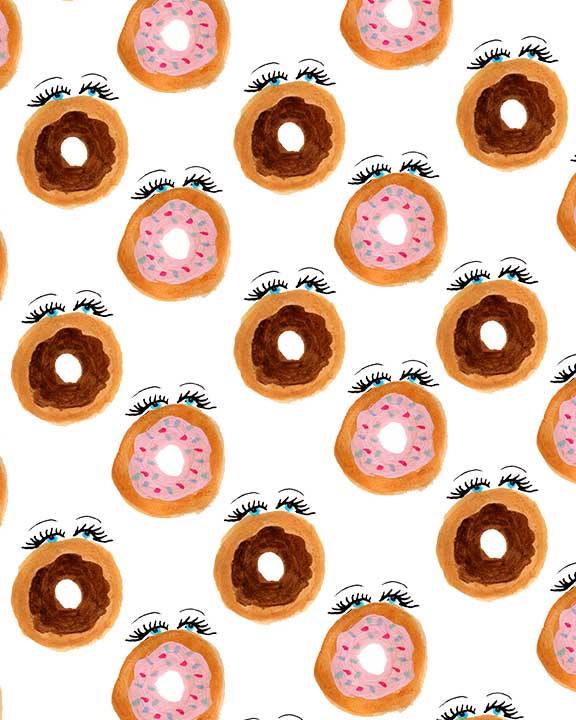 HelloGiggles (HG): Can you tell us a bit about yourself? How/when did you get started as an artist? 
Kendra Dandy (KD): I'm a dancer, corgi enthusiast, pizza addict, and lipstick lover. I have always been interested in art since I was little and wanted to turn it into a career, so I kept working at it and eventually it started to happen.
HG: Your prints have been featured on clutches, as photoshoot backdrops, in a ban.do agenda, on many Anthropologie items (perfumes, lip treatments, stationary!), and on so many other amazingly cool products. Do you have a favorite collaboration?
KD: I really like my products from Anthropologie. Everything is beautifully put together, has a fun, whimsical touch, and it matches me perfectly.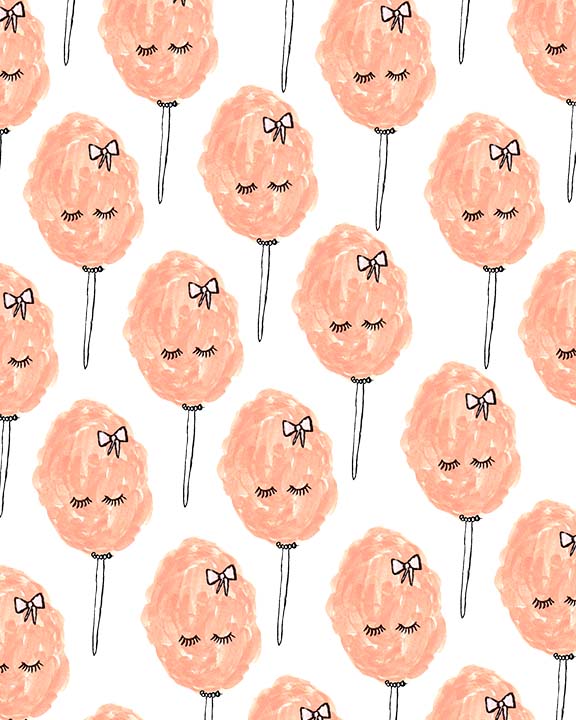 HG: What inspired you to start creating prints? 
KD: Trial and error. I wanted to be involved in the fashion industry, but I don't have sewing skills or an interest in merchandising, and I wanted to be able to use my painting skills in a practical way. When I found out that people could actually make a career by creating surface designs for textiles and various other products, I was sold.
HG: How have your prints evolved over time? Do you find yourself gravitating toward different subject matter or using a different style? 
KD: I just try a lot of different things and see where they take me. Maybe I'll combine some subjects, try a different medium or hand, and see how it goes.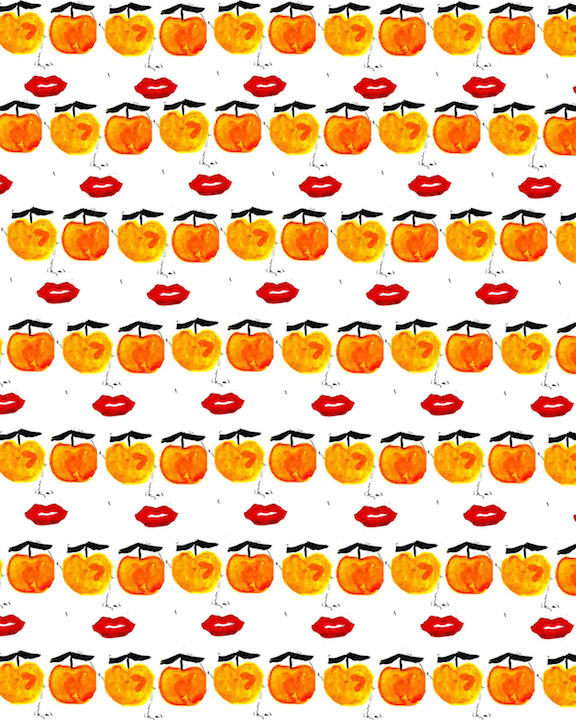 HG: When looking at your impressive portfolio, does a certain print stand out to you as a favorite or as one that has a special memory attached to it?
KD: I can't say that I have a favorite print, but I am partial to the beauty-themed ones!
HG: Where do your print ideas come from? Moreover, when you don't have any ideas, what sources do you look to for inspiration? 
KD: Vintage photos/ads/illustration. Beauty stuff, nature, those paint chips from the Home Depot. If I need inspiration, sometimes it's best to get away from the computer, go to a vintage shop, or even go to the art supply store and find something new to try. It may not be the best habit because it enables my art supply addiction, but the result is that I can't wait to get home to try out my new toy.
HG: What's your creative process like? 
KD: I do a lot of doodling/sketching/painting, come up with some elements that I like, put them together, and see what happens.
HG: What does your ideal creative space look like?
KD: Since I don't have a separate creative space, simply having another room in my house/apartment just for art would be super ideal. Sometimes, I'd have Spotify on, but most of the time it's mindless re-runs on Hulu or Netflix of things I've seen a million times – like Bob's Burgers, Archer, It's Always Sunny in Philadelphia, etc. I probably would just have all of my random artworks hanging on the wall and a dedicated space for all the 3D objects I paint on. Also, ample art supply storage.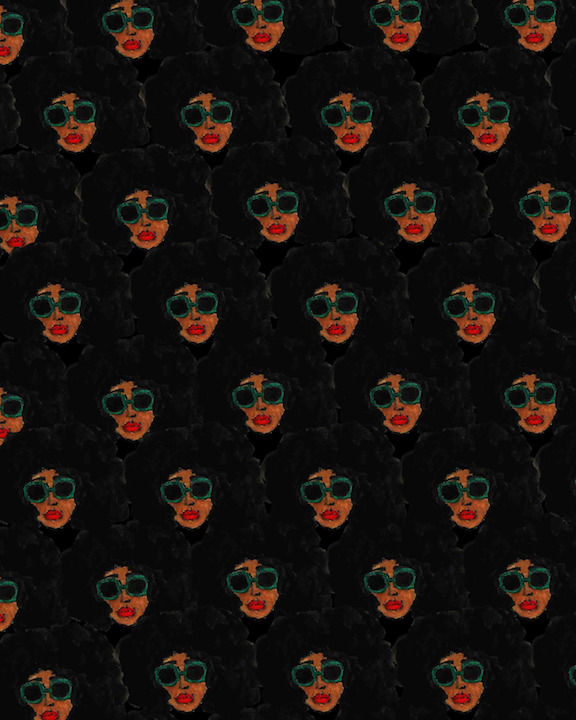 HG: Your Instagram feed is glorious. How has Instagram helped you as an artist? 
KD: Instagram is pretty great. It makes it really easy to put your work out there, market yourself, and connect with potential clients and other creatives. Basically, every creative should have an Instagram account.
HG: Are there any artists or brands you hope to work with in the future? Also – since you've painted on purses, shoes, headphones, and more – are there other mediums you'd like to explore down the line? 
KD: I do love working for beauty brands, so I hope to get more of those opportunities in the future. I also hope to be able to do wall art in salons/fashion boutiques or other cool art spaces. And as soon as I get any extra money, I plan on buying some mannequins to paint on for fun.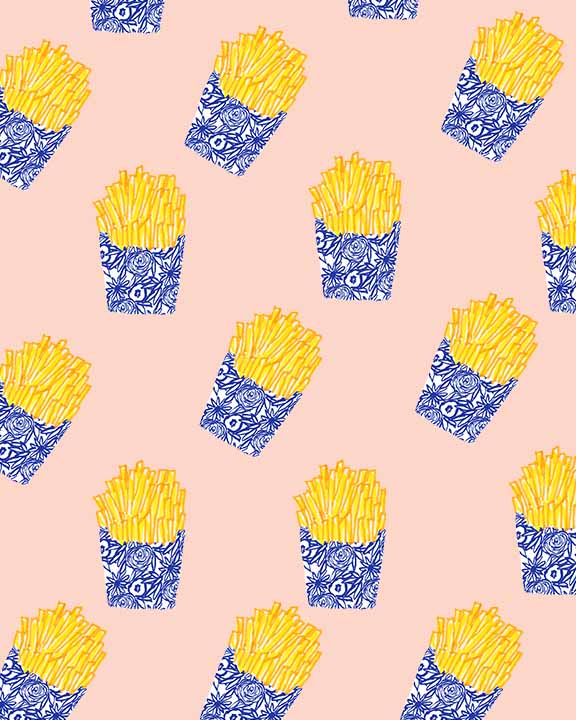 HG: What do you hope viewers (or wearers) take away from your prints?
KD: I hope they enjoy them, and take a sense of humor and fun from them.
HG: And just for fun: what's your favorite color? 
KD: Black. It satisfies my inner goth.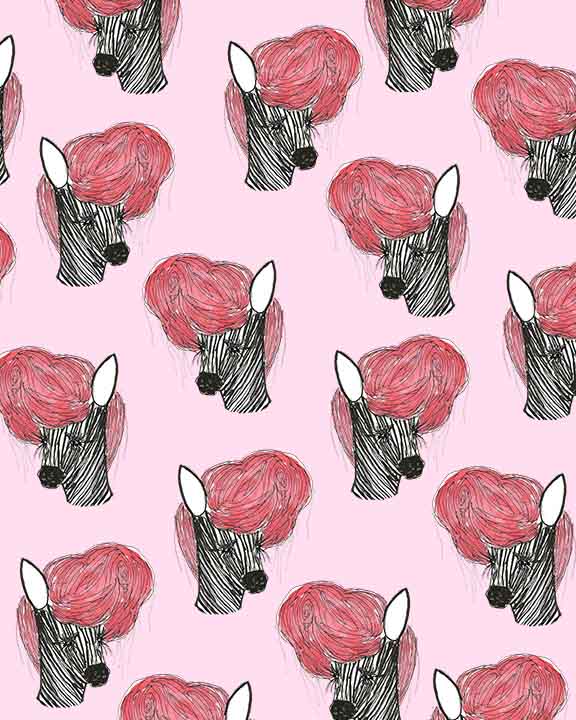 All images reprinted with permission from the artist. Connect with Kendra on her website, Facebook, Instagram, and Society6.