How being in a play called "SLUT" changed my life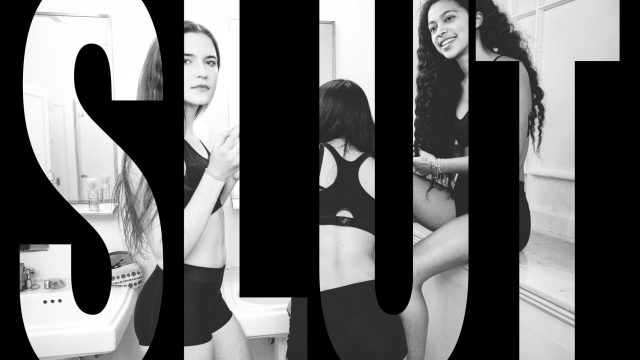 In the 8th grade, I was called a slut over text by my "boyfriend." I didn't know exactly what it meant, but I knew it was a bad thing — I knew that it was something to be ashamed of. I knew that it was a word thrown casually at girls who wore shirts and skirts that were deemed too tight. But I didn't dress like that. I wore clothes I felt confident in, I wore a little makeup, I had close friends that were male. Honestly, I wasn't sure what I'd done to be called a slut, but regardless, the word hurt. Now in 12th grade, I've learned so much about that pain, in large part thanks to a play called SLUT. 
My freshman year of high school, I sat in the auditorium of The New School and saw The Arts Effect production of SLUT: The Play for the first time. SLUT, written by Katie Cappiello and inspired by real experiences of New York City high school students, follows the story of 16-year-old Joey Del Marco, who is sexually assaulted by three of her lifelong friends on a Friday night in the back of a taxicab. The play explores the effects of slut shaming and rape culture on the lives of teens, and stresses the importance of empathy. I watched from the audience, gasping along with my fellow young theater goers as Joey's community went into attack mode after she came forward about her rape. As I sat there, I realized for the first time that what I'd experienced back in 8th grade was slut shaming. 
I became involved with The Arts Effect All-Girl Theater Company and SLUT: The Play, soon thereafter. After seeing the play, I too wanted the ability to share a story and present the realities of what young women face daily. The company and the show create safe spaces for girls and women to talk about their experiences and I knew I needed to be a part of a movement that lets girls know that it's okay to be empowered by both your intelligence and your sexuality. I also wanted to be a part of a movement that reassured girls that sexual assault is never, ever their fault. Thanks to my time in The Arts Effect, I finally understand why words like slut and whore make me feel so bad, and why those words exist and are being used.
The word "slut" is a double-edged sword, because it's so often used as a term of endearment (especially among girls). It's also used to tear down sexually empowered girls and women, attacking them for their transgression of socially accepted codes of conduct. SLUT: The Play shows how slut shaming is perpetuated verbally as well as over social media. SLUT: The Play also makes a powerful point about how the word slut devalues women. If a girl is a victim of rape, other people can often justify it to themselves by saying that girl is "slutty." A justification like that is never valid.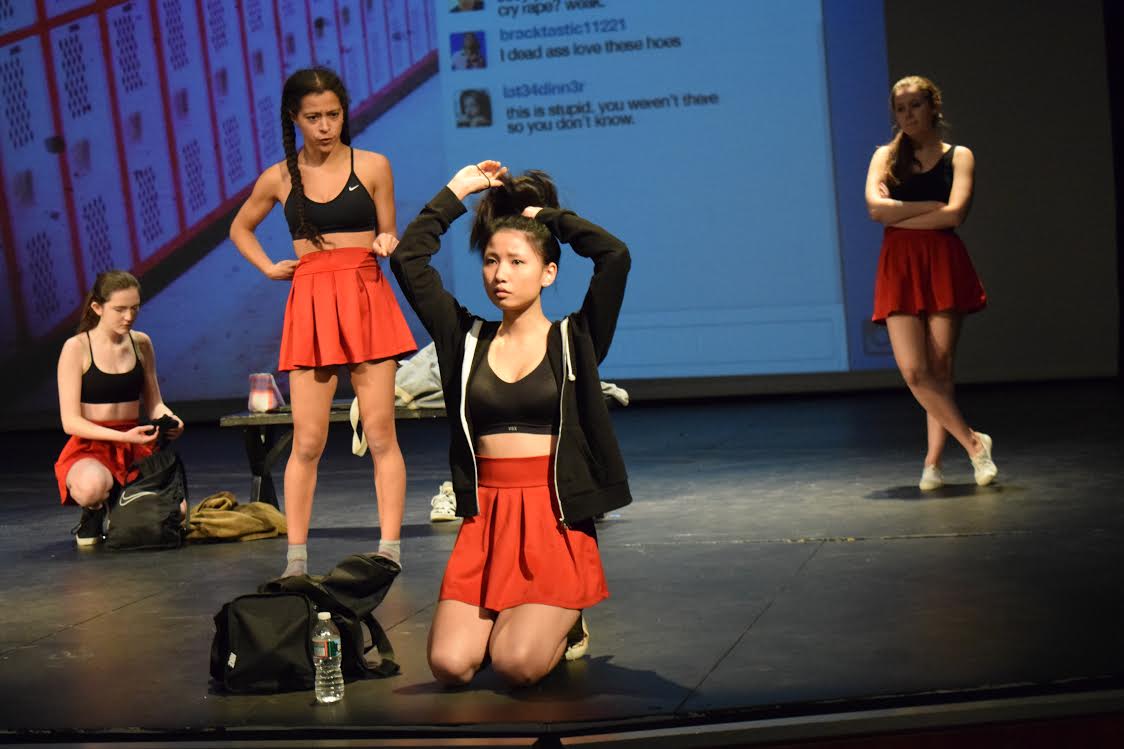 I've been a part of SLUT for the past three years, and it's provided me with a community where I can talk openly about sexuality, consent and the micro and macro ways I experience sexism and gender inequality every day. We are bonded by our passion to inspire change through the theater arts, and emboldened by the platform – literally, the stage – we've been given to stand up and tell our truths. To be an activist for the rights of my fellow girls, and to be able to do so through theater and storytelling surrounded by people I love and trust — is such a freeing experience.
After each performance of SLUT, it's not uncommon for women and girls of all ages come forward as sexual assault survivors. Audience members join me, my cast members and my directors Katie Cappiello and Meg McInerney in taking a stand – we are becoming a larger community and joining forces to work toward a common goal: empowering young people to find their voice and igniting change through discussions about slut-shaming, rape culture, and sexism.
Being slut shamed because of my confidence and personality was a terrible experience, and I don't want other girls to go through similar ones. Slut shaming pits girls against each other, when what we really need to do is unite in order to make a change. The first steps of action we must all take are to eliminate the words slut, whore, thot (or any word of a similar connotation) from our vocabularies. We may think they're harmless, but they perpetuate a culture which is certainly not. 
My experiences in middle school and my activism today have inspired me and given me power take action in my day-to- day life – I've gained the power to not be a bystander, and to instead, intervene and shut down slut shaming. I step in and speak up for those who are slut shamed online or in the hallways at school, because I've been that girl. I believe that even these little forms of protest go a long way in transforming rape culture. Joining SLUT changed my life just as much as being called one. 
You can learn more about The Arts Effect here.