Miley Cyrus, Billie Eilish, and other musicians join protest against Planned Parenthood bans—here's how you can help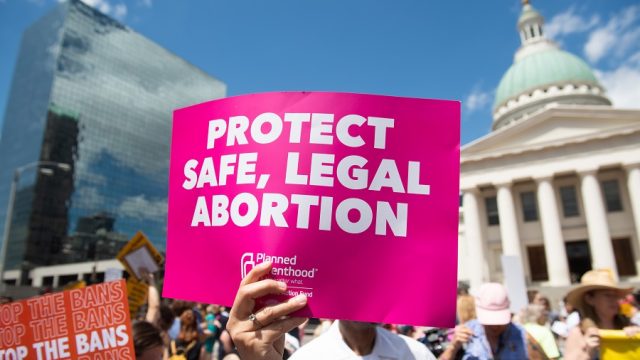 Nearly 140 musicians have joined forces with Planned Parenthood after the non-profit organization launched the #BansOffMyBody campaign to support reproductive rights and raise awareness on abortion bans. A-list celebrities, including Miley Cyrus, Lizzo, Ariana Grande, Lady Gaga, and Demi Lovato, have signed a petition to protest the growing number of strict abortion laws that are currently being passed in the United States.
"Freedom is at the foundation of music. Access to sexual and reproductive health care is about that same freedom. Because no one is free unless they control their own body," the petition reads. "Sweeping bans on access to safe, legal abortion are stripping away our freedom. Now is the time to band together and say keep your bans off our bodies."
Planned Parenthood also plans to spread the word at Jay-Z's Made in America Festival in Philadelphia this weekend and Billie Eilish's headlining event, Atlanta's Music Midtown Festival, on September 14th and 15th. In a press release, the 17-year-old singer, who is the youngest signee, spoke out in support of the organization:
"I'm proud to be standing up for Planned Parenthood as they fight for fair and equal access to reproductive rights," she said via Billboard. "We cannot live freely and move fully in the world when our basic right to access the reproductive health care we need is under attack. Every person deserves the right to control their body, their life, and their future."
You can see all the musicians who signed Planned Parenthood's letter, below:
On August 26th, after the MTV VMAs, Lizzo wore a "Bans Off" necklace from Sophie Ratner Jewelry. If you snag one of your own, 30% off proceeds go to the Planned Parenthood campaign.
Other stars, including Dua Lipa, Tove Lo, and Norah Jones, also voiced their support via Twitter in an effort to encourage fans to get involved in the movement. false
So, how can you help? All you have to do is sign the online petition and tell your friends to do the same. The organization hopes to get at least 500,000 signatures before the 47th anniversary of Roe v. Wade in January 2020.