Pizza vending machines are on the rise and we're totally here for it, obviously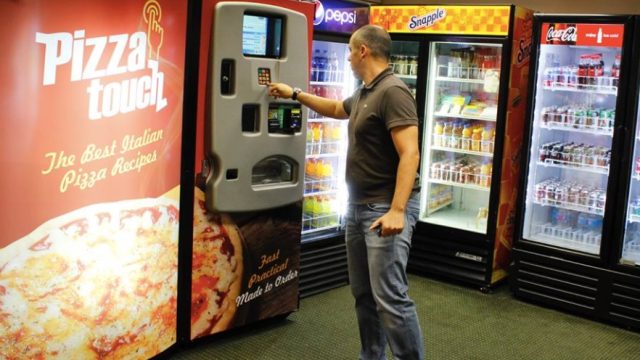 Looking for encouragement to finally kick that all-pizza diet to the curb? Well dears, allow us to kindly lead you in another direction because we're rather occupied at the moment with celebratory leaps because pizza vending machines are on the rise. According to Eater, the surge in pizza vending machines has started in Florida, thanks to Orlando-based company Pizza Touch's plans to make instant pizzas more poppin' than Disney World (sorry, Mickey).
So far, three machines have been set up in Orlando, but Pizza Touch intends to place 100 additional vending machines around the state's central region. Hmm…we predict Florida will experience a mass influx of new residents looking to satisfy their voracious pizza cravings.
With a production time slightly quicker than the country's first pizza ATM, Pizza Touch vending machines provide a fully cooked, 9-inch pizza in two minutes, which is just enough time to start drooling over your selection of either four cheese, pepperoni, or Margherita style. Customers receive their fresh-from-the-oven pizzas on a cardboard tray, which isn't as fancy as say, a pizza box that doubles as a turntable, but let's not lose sight of what's really important here, folks, which is this glorious machine that will probably take over our lives in the near future:
Seriously, we cannot wait to be the guy in this photo:
SIGHS. This is one of those moments where we'd love to give technology a big ol' hug.