These adorable Disney desserts are so "Monsters Inc"-redible, we almost don't want to eat them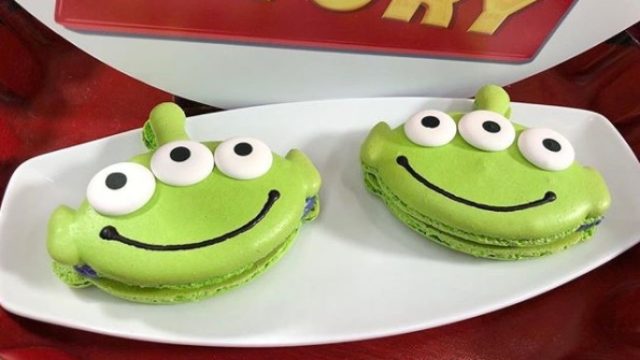 We already know that Disneyland is the happiest place on Earth. And now, we can confirm that it's also the most delicious place on Earth. But we already knew that, really. Disneyland has the most inventive and Instagrammable desserts, like rose gold churros for Millennials and bat wing ice cream sundaes for Halloween. And now, they've stepped up their Disney desserts game even more. This time, with adorable Pixar-themed treats.
If you love Pixar movies, you won't want to miss Pixar Fest, a celebration of your favorite computer animated films. One of the most exciting parts about Pixar Fest is the food, of course. You'll be able to buy Disney desserts inspired by your favorite Pixar movies, including Toy Story, Monsters, Inc., and Finding Nemo. Even though Pixar Fest doesn't open until April 13th, you can already see a sneak peek of some of the limited-edition snacks. They're so cute, we almost don't want to eat them. (Almost.)
Pixar Fest is coming to Disneyland and Disney California Adventure from April 13th until September 3rd, so you have plenty of time to try these Disney desserts for yourself. If you're planning a trip to the parks, now is definitely the time to go. Here's a sneak peek of some of the adorable sweet treats you can enjoy!
Nothing has ever been as cute as Finding Nemo cake pops or Monsters, Inc. bread. Nothing.
https://www.instagram.com/p/BgHCDxYHEqg
Everybody loves macarons. But have you ever had Toy Story alien-shaped macarons? We didn't think so.
But Pixar Fest has more than just Disney desserts. Scroll through these pics to see savory snacks from Ratatouille, Up, and more.
Because what kind of well-rounded meal is complete without multiple Pixar characters?
https://www.instagram.com/p/BgHXf8RAUBx
We love Disney corndogs, so we know we'll love Jack Jack Cheese Dogs.
Have your noodles ever changed colors? Probably not. That's what we call Disney magic.
And if you want to just throw it back with a classic TV dinner from Monsters University, Pixar has your back there too.
After your meal, a slice of three-layer Pixar cake is waiting for you.
If cake isn't your style, how about a quick Pixar cake pop?
https://www.instagram.com/p/BgHHFuCgLIu
BRB, booking our trip to Pixar Fest to make some extremely delicious memories.