Pixar's "Coco" is going to be the best movie about a boy and his dog and the Land of the Dead, and we're crying already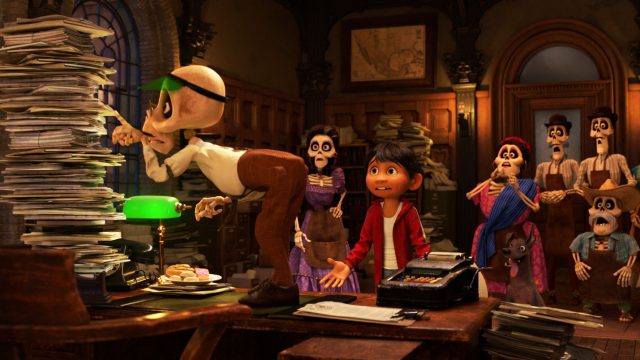 Pixar just released a new trailer for its latest film, Coco and we're already crying.
The upcoming filmfollows 12-year-old Miguel, an aspiring musician whose family has a generations-long ban on music. Feeling like nobody besides his loyal dog, Dante, and musical idol, Ernesto de la Cruz — his great-great grandfather and cause of the ban — understands him, Miguel seeks refuge at his idol's tomb, only to accidentally ends up in the Land of the Dead. In the Land of the Dead, Miguel and Dante meet Miguel's ancestors — including his great-great grandmother, Mamá Imelda, who implemented the ban.
With the help of a trickster named Hector, Miguel must try and convince Imelda to lift the ban before he's trapped in the Land of the Dead FOREVER.
https://www.youtube.com/watch?v=bvomHFZO0mk?feature=oembed
The coming of age film will most likely make us laugh, cry, and maybe make us think a little bit about our own family history.
The film boasts a crazy talented cast including Gael García Bernal as Hector, newcomer Anthony Gonzalez as Miguel, and Benjamin Bratt as Ernesto de la Cruz, with Jaime Camil, Sofía Espinosa, Gabriel Iglesias, and Cheech Marin in supporting roles. As if we weren't in love already!
Earlier this year, Pixar gave us a little more insight to Miguel's home of Santa Cecilia — a fictional Mexican town — as the townspeople prepare for Día de los Muertos in a short called Dante's Lunch.
https://www.youtube.com/watch?v=6rOKoa6RSHM?start=81&feature=oembed
Based on the short and the trailers for Coco, it seems director Lee Unkrich and co-director and writer Adrian Molina are going to portray Día de Los Muertos and Mexican culture with the authenticity and respect it deserves.
We can't wait to see Coco when it hits theaters on November 22nd.