Anna Kendrick and the "Pitch Perfect" cast are on a tropical vacay together, and they are #SquadGoals af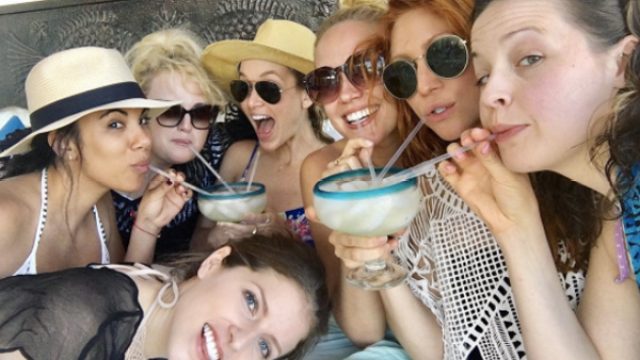 The Bellas are back…well, sort of! Anna Kendrick and her Bellas went on a tropical vacation together, and it was aca-awesome.
As we impatiently wait for Pitch Perfect 3 to hit theaters — on December 22, 2017 — we're happy to report that the cast has already reunited. This time, the lovely ladies from Pitch Perfect hung out in Mexico together! Over the last few days Kendrick, Anna Camp, Rebel Wilson, Brittany Snow and more of the a cappella ladies have been soaking up some serious sun.
Kelley Jackle, Chrissie Fit, and Shelley Regner were also on the amazing trip and didn't hesitate to take a million photos. Okay, maybe not a million, but there are a LOT of pictures.
Clearly, this cast loves one another, and we are SO jealous of their bond — and this Cabo San Lucas trip.
"Those friends that wait for you to dive into the selfie at the last second. ??," Kendrick captioned her margarita snap.
"Soooo we decided we love each other so much, we had to go on a holiday x #bellas4life," Rebel captioned the same photo.
Clearly margs, on margs, on margs were on the menu and they look SO tasty.
When the girls weren't toasting to their friendship, they were living it up at the pool or beach.
Pool shenanigans obviously ensued.
And walks along the sand…which hopefully included some singing and dancing together.
Even when the sun went down the BFFs hung out on the sand.
When beaching wasn't on the schedule, the co-stars decided to get some exercise and try their hand at tennis. It looked like a blast.
https://www.instagram.com/p/BUFB5Gngqqs
There were also a LOT of hilarious videos taken throughout this girls' trip as well — and we are so grateful for them.
Kendrick playing in the pool and asking for marshmallow cream.
Yes, really.
Another one showed the lovely ladies doing a mini photo shoot on the beach.
These ladies give us constant #FriendshipGoals and this vacation is no exception. Now we really want in on the next Pitch Perfect vacation. Like, really badly. How do we make that happen?