The new "Pitch Perfect 3" trailer is here, and it'll make your Monday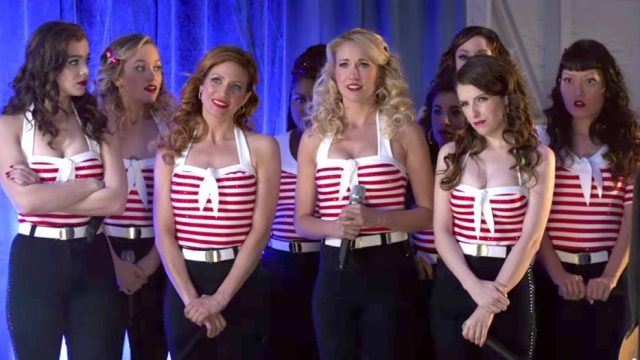 Our hearts are singing! The new Pitch Perfect 3 trailer is here, and we're already all in on this one, y'all.
This time, our favorite a cappella group won't be taking on the college competition circuit — they're in the real world now. And with all of our favorite ladies — including Anna Kendrick, Rebel Wilson, Brittany Snow, and Anna Camp — returning for this encore, we literally couldn't be more excited.
Even better, it looks like we'll get the laughs, friendships, and amazing musical numbers we know and love from the first two movies.
So yeah, we know what we're doing during our holiday season downtime this year.
https://www.youtube.com/watch?v=aVsOXRgjeeU?feature=oembed
It looks like the ladies are having trouble moving into the real world (…aren't we all though), so they return to what they know and love for a little comfort and some good times. We don't know too much about the script yet, but from the trailer we see that the team decides to embark on a farewell tour, performing at a USO event in Europe.
(We're pretty jealous, TBH. A post-college Euro-trip with all your best friends? Where do we retroactively sign up?)
What's new and exciting about Pitch Perfect 3, though, is that the Barden Bellas aren't competing against other a cappella groups.
Instead, they're competing against actual bands! So we're pretty stoked to see what they put together to compete with, y'know, actual instruments.
We can't wait for the third movie in this series (in theaters December 22nd), but we do have ONE concern: The trailer ends with "Last call, pitches" and like…aca-scuse us? You'd better make room for another film if we love Pitch Perfect 3 as much as the last films, is all we're saying.