If there is a "Pitch Perfect 4," we'll meet an entirely new cast of Bellas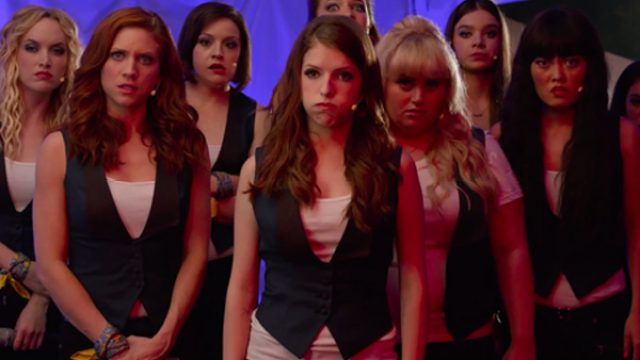 It's the end of the world as we know it — okay it's just the end of the Barden Bellas…maybe. While we are SO excited for Pitch Perfect 3, it might be the end of the Bellas as we know them!
As soon as Pitch Perfect 2 hit theaters in 2015 we were already clamoring for a third film. Luckily, our prayers were answered and our favorite a cappella ladies are coming back for another movie.
In fact, the stars of the first two films have been all over social media while filming the third installment. Everyone from Anna Kendrick to Brittany Snow has been posting late-night set photos, and we're obsessed.
While this is all great — even though they have officially wrapped and therefore aren't together right now — there is a downside. According to Pitch Perfect screenwriter, Kay Cannon, this film is most likely the last for the Barden Bellas.
"I think that people will cry," Cannon told E! News about the third film. "I think it's the end of the Bellas as we know them."
If we're being honest we are so NOT okay with this news.
Will we be happy with however they choose to wrap up the epic friendship between Fat Amy, Beca, Chloe, and Aubrey? We're betting yes, but we're still so shocked about this announcement.
Cannon continued that although the cast hasn't actually said they are done for good, she could get a sense that it was over while filming this movie.
"I think they just know," she explained. "I had the feeling when I visited set, it was like they were full of tears and like, 'How much longer can we be singing a cappella?'"
We are definitely saddened by this aca-tragic news.
"If there's a Pitch Perfect 4, it will be a new crop," Cannon added. Hmm, we're not sure how we feel about another installment without the original girls. It just wouldn't be the same.
Even though Pitch Perfect 3 — which hits theaters December 22nd, 2017 — is probably the last, we're just happy we get to see these aca-awesome ladies on screen once again.
Plus, they are all super close in real life, so there should be a LOT of reunions to keep our love for the Bellas alive.