The Bellas are back together in the first "Pitch Perfect 3" trailer, and they hit all the right notes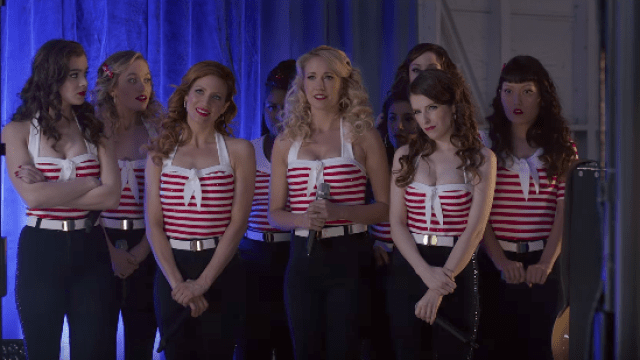 Here's some aca-awesome news! The first trailer for Pitch Perfect 3 has arrived, and it finds the Barden Bellas struggling post-college: Beca (Anna Kendrick) quit her job, Fat Amy (Rebel Wilson) is performing as "Fat Amy Winehouse," and Chloe (Brittany Snow) is doing some dirty work as she works her way to vet school. And that's just for starters.
Needless to say, things aren't exactly working out so well. "I would do anything to sing with you guys again," Chloe tells the singing group, with a hint of desperation. "Anything!" That's when Aubrey (Anna Camp) suggests that she should try to score them an invite to perform at a USO event in Europe that supports the troops.
Sounds like a total dream, right?!
https://www.youtube.com/watch?v=Hihto8onbUU?feature=oembed
Yes and no, because now the Bellas have the new challenge of performing against groups that use instruments — like one seemingly led by the sassy, snarky Calamity (Ruby Rose). And from there, there's fighting, fire, and (of course) friendship.
Here's what else is to be expected from Pitch Perfect 3:
"After the highs of winning the World Championships, the Bellas find themselves split apart and discovering there aren't job prospects for making music with your mouth. But when they get the chance to reunite for an overseas USO tour, this group of awesome nerds will come together to make some music, and some questionable decisions, one last time."
"Let's aca-finish this," Aubrey says. We couldn't want anything more, so we'll anxiously be aca-awaiting the release of Pitch Perfect 3 on December 22nd.