The new "Pirates of the Caribbean" trailer features a young Jack Sparrow, and yes, he's been rocking the manliner all along
Pirates of the Caribbean: Dead Men Tell No Tales continues the story of Jack Sparrow, but it could very well have a different name, like Pirates of the Caribbean: The Beginning. Or like, Pirates of the Caribbean: Jack Sparrow Origins. 
The latest trailer for Disney's swashbuckling adventure takes us waaaay back to when Jack Sparrow first hit the high seas. Turns out, the new big-bad-pirate Captain Salazar wasn't always out for revenge. Once upon a time, he was a human captain, who happened to cross paths with a lil' Jack Sparrow.
That's when lil' Jack Sparrow — who has been sporting some epic manliner since the very beginning, naturally— stole that ~magical compass~ from him, and in the process, destroyed Salazar, his ship, and his crew.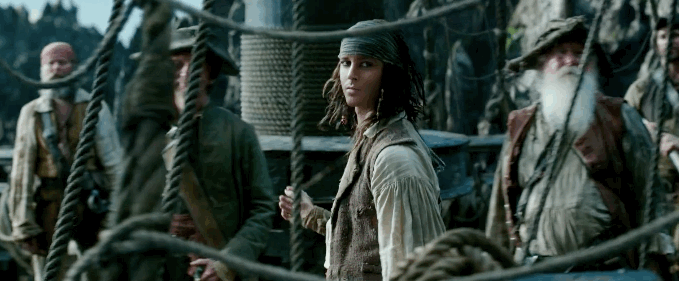 And that's how you become an undead pirate captain!
Now, Salazar is out for revenge (obviously) and determined to bring Jack Sparrow to justice one way or another. Judging from what we see in the trailer, he's going to plunder and pillage the entire Caribbean until Jack is found.
This trailer has just about everything you could ever want in a pirates movie, like: Ghost sharks! Ships! Deserted beachy-islands! A sassy lady who doesn't need to be saved by anyone! Jack the Monkey! Honestly, there's only one thing missing from the trailer, and it's a BIG thing: Will Turner. We know he's back, and he's undead, and that's fine. As long as we get to see Will again (and maybe Elizabeth) we'll be happy.
Pirates of the Caribbean: Dead Men Tell No Tales sails into theaters on May 26th.