The trailer for "Pirates of the Caribbean: Dead Men Tell No Tales" is here, but where is Captain Jack Sparrow?
The first teaser trailer for Pirates of the Caribbean: Dead Men Tell No Tales is finally here and it looks creepy AF.
The film is the fifth instalment in Disney's popular Pirates… franchise based on the ride of the same name, and marks the first film since 2011's On Stranger Tides.
The latest film has been marred by a multitude of delays, which saw the script being re-written by Jeff Nathanson. The film was initially set for release in 2015, but was delayed until to 2016 and later 2017 due to budget and script issues.
Regardless, the trailer for the movie is now here and we've got actual chills.
https://www.youtube.com/watch?v=1xo3af_6_Jk?feature=oembed
Reprising his role of Captain Jack Sparrow, Johnny Depp appears to be missing from the dark and grim trailer. Instead, we get a glimpse of Javier Bardem's character, the frightening and, well, dead Captain Salazar, visiting Henry, played by Brenton Thwaites, who is tasked with finding Sparrow.
"Find Sparrow for me and relay a message from Captain Salazar and tell him, 'Death comes straight for him.'" Bardem's character whispers creepily. "Will you say that to him? Please?"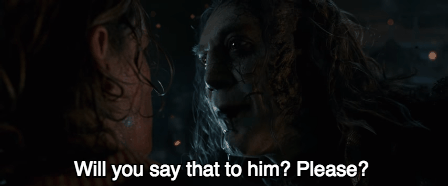 As Disney revealed, Pirates of the Caribbean: Dead Men Tell No Tales follows the adventures of Captain Jack Sparrow (obvs) as he battles Captain Salazar, who, along with a crew of ghost pirates, is attempting to rid the world of every pirate. Sparrow must hunt down an ancient artefact, Poseidon's Trident, in an attempt to control the seas and rid the world of his undead Captain. false
Last year it was announced that Orlando Bloom would be returning to the franchise as the devilishly handsome Will Turner.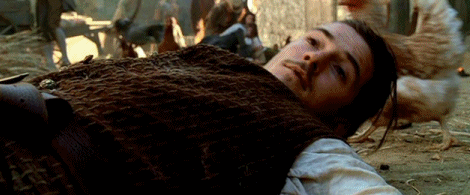 Also returning to the popular swashbuckling movie series is Geoffrey Rush as Hector Barbossa, Kevin R. McNally as Joshamee Gibbs, and Stephen Graham as Scrum. Unfortunately, it doesn't look like Kiera Knightly has decided to return to reprise her role of Elizabeth Swann.
We have to say, we're pretty intrigued by this latest trailer. It looks really, really dark (which we love) and kinda scary. Javier Bardem looks SO freaky, and we always love an adventure onboard a pirate ship, don't you?
There's not too long to wait until Pirates of the Caribbean: Dead Men Tell No Tales. The film is scheduled to hit theatres May 26th, 2017. So, there's LOADS of time to watch the first four films…