Pippa Middleton is reportedly pregnant with her first child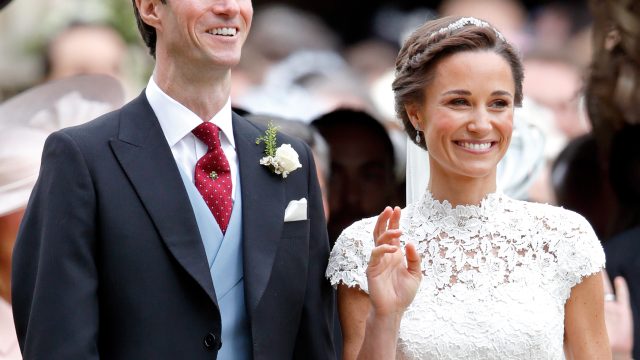 Congratulations may be in order for Kate Middleton's younger sister: Pippa Middleton is reportedly pregnant with her first child, and we couldn't be happier for her. According to U.K. newspaper The Sun, Pippa and her husband, James Matthews, are expecting. Pippa is apparently 12 weeks along right now.
The Sun reported that Kate was the first person to hear the news (after Pippa's husband, of course) and that she "could not have been more delighted." It's not hard to see why: Kate is due to give birth any day now, which means her third baby and Pippa's first-born would be super close in age. That's pretty adorable.
"When Pippa found out she was pregnant, she was obviously thrilled and utterly overjoyed," an unnamed friend told The Sun. "Naturally, big sister Kate and parents Carole and Michael were the first people she told — James aside — and they could not have been more delighted. ...  This has provided some much-needed happiness and light relief."
Pippa and James married on May 20th, 2017 at St. Mark's Church in Englefield, England. They followed up the gorgeous affair with a long honeymoon in French Polynesia and Australia. The unnamed source told The Sun that Pippa has been excited to start a family with James. "Pippa and James have always known they wanted children," the friend added. "They have made the most of their first few months of marriage and felt the time was right to expand their family."
The news of Pippa Middleton's reported pregnancy comes at an exciting time.
Not only is Kate about to give birth to her third child, but James' younger brother — former Made in Chelsea star Spencer Matthews — and his fiancée, model Vogue Williams, recently announced they were expecting their first child. Kate will also have a new sister-in-law in Meghan Markle in a few weeks following the much-anticipated royal wedding.
We wish nothing but the best for Pippa and James, and can't wait to see what maternity outfits Pippa starts rockin'.