Pippa Middleton adopted a really unusual, highly restrictive diet before her wedding
Today, the world's most famous bridesmaid became a beautiful bride herself. In a private ceremony at St. Mark's Church in Englefield, England Pippa Middleton walked down the aisle to wed her longtime love, James Matthews. Pippa looked absolutely incredible in her custom-made white lace gown, but getting in shape for the big day took a whole lot of work. Kate Middleton's sister not only took part in a strict bridal bootcamp at the Grace Belgravia health club, and also adopted a really unusual, highly restrictive new diet.
According to reports, Pippa adopted the SirtFood Diet before her wedding.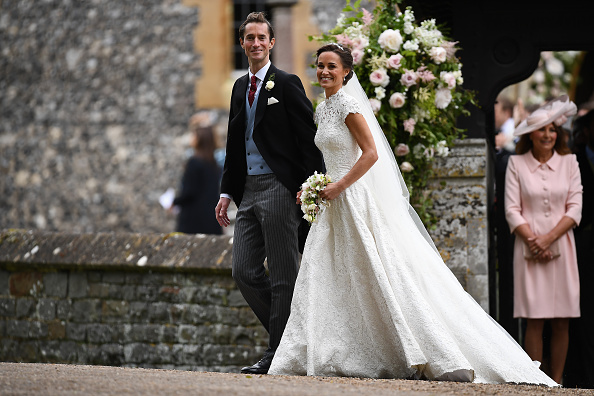 The SirtFood Diet was created by health consultants Aidan Goggins and Glen Matten, and essentially involves calorie-restriction, replacing full meals with juices, and eating only foods that are high in polyphenols, which are micronutrients found in plant foods that supposedly help activate a person's sirtuin (or "skinny") genes. In other words, the diet claims that by sticking with 20 so-called Sirtfoods — including strawberries, kale, arugula, red wine, and walnuts — you'll burn more fat and your metabolism will speed up.
The diet is broken down into two phases. Phase one lasts seven days, and for the first three days, dieters consume just 1,000 calories through just three Sirtfood-rich green juices and "one full meal rich in Sirtfoods." For the remaining four days, the caloric intake is upped to 1,500 calories, with two green juices and two meals allotted for each day.
This actually doesn't sound too bad on first blush — and we'd definitely be inclined to try anything that lets us drink red wine as part of a "healthy" diet — but we might hold off on this one.
In an interview with The Cut, registered dietitian Brigitte Zeitlin said this form of dieting is actually quite dangerous. "It's unhealthy and unsafe to eat below 1,200 calories a day," Zeitlin said.
"In addition to not giving yourself the proper energy and nutrients you need each day, you're on this fad diet, eventually you're going to go off of it. You're going to gain all of the weight you lost back, and more often than not, you're going to gain even more weight back.
She continued,
"Extreme diets like this don't work. Most brides usually burn out on them, and they get incredibly cranky because they're starving themselves. At a time when you're already incredibly stressed out, the last thing you need to do is add in the stressful factor of not eating properly."
So while it may have worked for Pippa, if you're getting ready for your big day or just looking to get in shape, you should research some healthier options. Zeitlin says the best thing you can do for yourself is to ensure that you're getting a variety of whole fruits and vegetables, as well as lean protein, each day. And avoid any diets that involve starving yourself.