Pinterest's new feature makes it easier for people of color to find beauty inspo
There's no denying that the beauty industry is taking steps to become a more inclusive and diverse space. Whether it's brands following the lead of Fenty Beauty's foundation shade range or retailers like Target adding new makeup brands for people of color to its beauty section — every action that leaves more people feeling represented is awesome. That's why we're excited Pinterest is throwing its hat into the beauty diversity ring with the addition of its latest feature.
Starting now, people who are looking for beauty products, tips, tricks, and more can customize their search to their own complexion. It's as easy as picking a shade range close to your own and then clicking on what you're looking for, whether it be makeup tutorials, hair tips, skin care advice, or more. This will actively make it easier to find beauty ideas and products for a more diverse range of skin tones.
There are a whopping 8 billion beauty and hair pins on Pinterest — pretty wild. The sheer volume alone can make searching for what you need quite daunting, which is why anything that helps us customize our beauty search is a total blessing. There are four palettes to help you narrow your search, each representing a range of skin tones.
The latest beauty diversity feature on Pinterest is going to be a total game-changer for beauty lovers around the globe.
The vast majority of Pinterest users search for and save beauty looks, so anything that makes it simpler is pretty fantastic.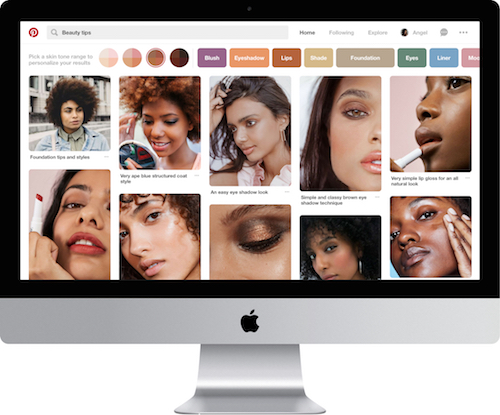 It looks like it's time to get to work on our spring and summer mood boards, because it just got much easier to find what we're looking for. And with the news that Pinterest is also including features that make it more inclusive for people with all levels of vision, we are happy to renew our support for this lovely website — it has and always will be a respite from this weary world.