Pinot Meow is the non-alcoholic wine your cat has been waiting for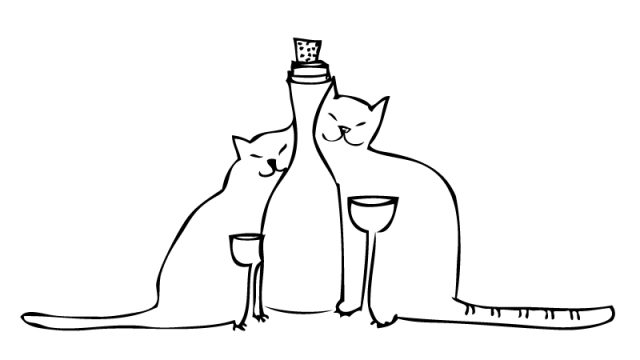 As if you didn't love wine and cats enough already: Now you can drink your favorite Friday night beverage along with your favorite companion, and feasibly never have to go out into society again.
Why? Because some genius in Colorado has started making a wine-like beverage for your feline friends.
Right meow, you're probably thinking, "Isn't alcohol bad for pets?" Well it is — and so are grapes for that matter — but this stuff isn't really wine. It's organic catnip and water, colored with beet juice to look like wine. Did your cat's ears just perk up at the thought of that?
(However, you still should probably check with a vet before you let your cat sip on the feline vino, especially if they have urinary tract issues. But for the most part, beets are non-toxic to cats.)
The wines, made by the company Apollo Peak, are named Pinot Meow and MosCATo (yes), and according to Apollo Peak founder Brandon Zavola, local vets have already approved the kitty cocktail.
"It's made like a tea," Brandon told The Huffington Post. "But since we got it to look so much like a wine, we want it to be perceived as a wine by the consumer — that way they can feel as though they are having a glass of wine with their pet."
Let us set a future scene for you: You and Oreo settle onto the couch on a Thursday night with your species-appropriate glasses of wine and turn on Scandal. Could life get any more perfect?