Pinot Grigio doughnuts are coming, and we'll drink to that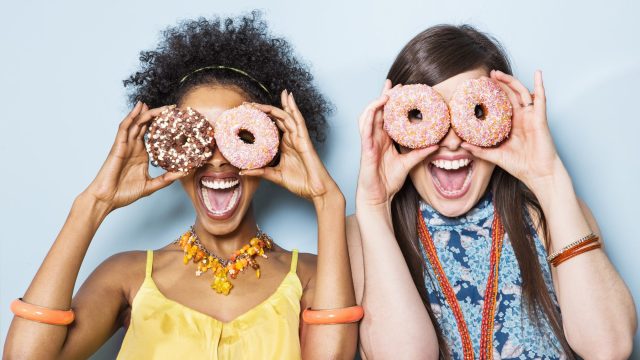 This is the best thing we've heard all day. If you love wine and you love doughnuts, then we have some very exciting news for you. New York City's The Doughnut Project is launching Pinot Grigio doughnuts in collaboration with Cavit Pino Grigio. They're available starting on May 14th, just in time for National Pinot Grigio Day on May 17th.
In case you were wondering, yes, Pinot Grigio doughnuts are the most Instagrammable doughnut you could ever think of. The puffed confections come filled with cheesecake filling, dressed in Cavit Pinot Grigio glaze and meringue, and topped off with gorgeous gold sprinkles. The Pinot Grigio doughnuts are almost too pretty to eat, but of course, we're going to eat them anyway!
The Doughnut Project famously makes decadent creations that are both unique and a bit outrageous.
You can find everything from a strawberry milkshake doughnut to an everything bagel-inspired doughnut. The Doughnut Project's ever-popular Prosecco doughnut was such a hit last year that although it was supposed to be available solely to celebrate National Prosecco Day, it is now a permanent menu item. Meaning, if the Pino Grigio doughnuts are a hit, maybe they'll be added to the permament menu too? Hey, we can dream.
Have you ever seen a more beautiful boozy treat?
The Pinot Grigio doughnuts will retail for $4.75 each from May 14th to May 20th at the Doughnut Project in New York City. And as with all trendy NYC desserts, there's sure to be a long line. So show up early, because we bet they'll go fast!