Pink's new hair color is making us nostalgic for her early 2000s look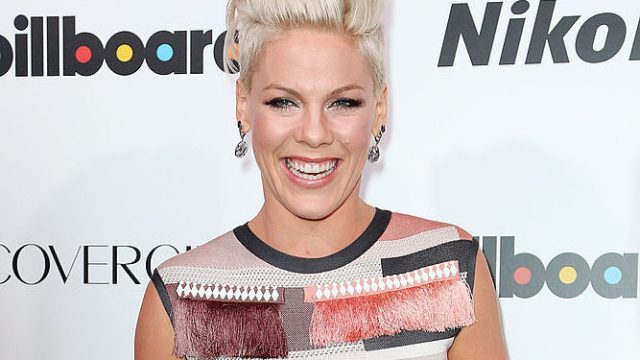 Pink's aesthetic has stood the test of time. She came out of the gate in the late '90s and early 2000s with a punk attitude and flaming hot pink — and sometimes spiky — hair. Since then, Pink has matured her punk look, while still keeping herself edgy with either a short bleach blonde or pastel pink 'do. But Pink's latest hairstyle is making us nostalgic for her early 2000s fuchsia days, and you'll see why.
The Grammy Award-winning songstress posted a photo to her Instagram on Friday revealing a new hot pink (and purple) angular bob. Pink's comin' up, so we better get the party started!
She captioned the pic, "Feelin myself @colormeknights#rainbowbright."
It certainly isn't styled the same as it was back in '99. But that spicy pink is definitely giving us #tbt vibes!
The new mom has been rocking a softer platinum blonde 'do with subtle pastel pink streaks for some time. In classic Pink style, she's kept it short, with shaved sides and longer locks on top. It looks like she let daughter, Willow, take over the pink hair patrol while mom went on a brief hiatus.
But with the pastel pink hair trend on the rise — seriously it seems like everyone has tried pastel pink hair — it looks like Pink wants to reclaim her title as Queen of the Pink Hair. Doing so with that beautiful pink to purple ombre has us bowing down without question.
We're excited that Pink has returned to her roots (get it?) with a hot pink hairdo. Maybe she'll humor us and hair gel it into those dangerous spikes we fell in love with. But then again, Pink may have left those spikes in the early 2000s for a reason…