Pink shuts down the myth that female artists are always feuding with each other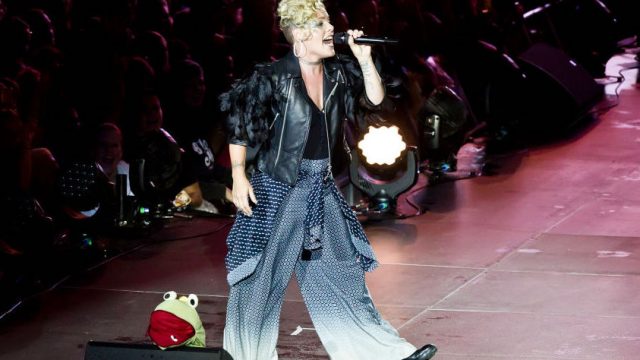 In the music industry, we're always hearing about "beefs."
Rumor has it that Pink and Christina Aguilera were less than friendly during the 2001 "Lady Marmalade" era. In fact, Pink has opened up in the past about how a label executive tried to give most of the vocals to Aguilera instead of Pink. However, that issue has long passed and the two have since buried the hatchet.
That being said, some stans are still clinging to this narrative. When it was announced that Pink would receive the Video Vanguard Award at the upcoming 2017 MTV VMAs, an X-Tina fan tweeted something pretty snarky.
First of all, ouch. Second of all, Pink has a message for everyone on the topic of music industry feuds.
When she says "awful new phenomenon," we think she's referring to the idea that women in the music industry are pitted against each other with a "rival" narrative superimposed. It's as if two contemporaries working in the same genre can't coexist.
Pink continues:
A thousand times YES to this:
"Music brings us all together. The best part of music is- there's room for everyone to win at the same time. Don't be what's wrong w/da world, Pink tweeted. "Let's be an example of inclusion and celebration. You don't have to like me at all, I'm ok with that. Just be a decent person."
We love both Pink and Aguilera and don't understand why it needs to be an either-or scenario. In the meantime, Pink's Vanguard achievement means she's joining a long line of iconic artists like Madonna, Britney Spears, Rihanna, Beyonce, and Kanye West. Congrats!