How the Pink Moon will affect your zodiac sign (and your flirting game)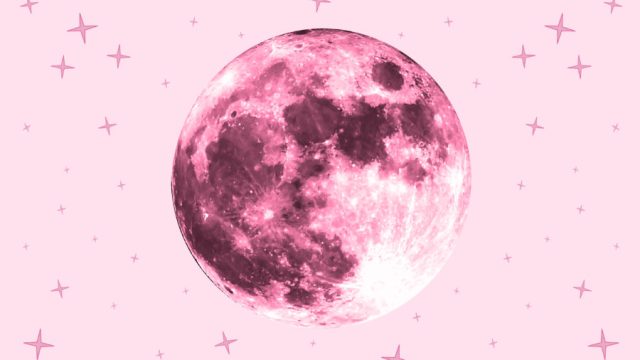 Although the upcoming Pink Moon might not actually be pink (*gasp*), you better believe that the energy surrounding April's full Pink Moon at the end of the month is as flirty and potent as its name. But just how will it affect your life? Thankfully, we can turn to the good ol' stars for guidance on how the Pink Moon will affect your zodiac sign.
According to The Old Farmer's Almanac, the Pink Moon received its name because wild ground phlox (or pink moss) are some of the first flowers to bloom during the season. Also, the moon appears in the sign of Taurus, which is governed by the planet of Venus, also known as the planet of love.
This year, the Pink Moon wraps up the month in moody and seductive Scorpio. In general, the signs can expect not only to be cleansed of situations and people we no longer need, but we'll also get to experience Scorpio's powerful essence. In other words, expect some sexy times ahead.
Here's how the Pink Moon will affect your zodiac sign.
ARIES
Now is the time to take a risk in love, Aries. You don't normally hold yourself back, but there's something about this situation that is causing you to second-guess yourself. Don't! Besides, you'll never know the answer if you don't at least go for it. And no matter what, you're worth knowing.
TAURUS
Opposites do attract, Taurus. Despite you refusing to believe so (that's your stubbornness talking), the more you give into where your heart is leading you, the more you will be rewarded. It's okay to date someone who's different from anyone you've dated before — in fact, it's necessary sometimes.
GEMINI
You're going to undergo a total emotional workout, Gemini. This isn't in your wheelhouse. You usually like to keep your feelings in check, but doing an emotional inventory is super important. Allow yourself to feel what you need to and don't be afraid to cry it all out.
CANCER
Trust issues are coming up for you right now, Cancer. Maybe your trust has been betrayed by someone close to you or maybe you're having difficulty trusting a loved one or even yourself. Whatever it is, learn what you need to and do your best to keep the faith.
LEO
You're about to get swept off your feet, Leo, but don't be surprised if it ends up being short-lived. It's not personal — it's just that neither of you are in the right space for something long-term. Maybe you'll unite down the road, or maybe it'll just be a nice memory.
VIRGO
You're about to meet your match, Virgo. This person complements you in all the right ways — emotionally, intellectually, and sexually — but could also be a little on the deep, dark side, which could pull you down a bit. Weather the storm and see where it goes! Maybe you can light each other up.
LIBRA
It's important for you to embrace your individuality right now, Libra, whether you're coupled up or single. Boundaries are important, and actually help you get what you truly want in a relationship when you remain true to your own needs. Do you, bb!
SCORPIO
You're coming alive right now, Scorpio. You are in your zone and feeling yourself. Treat yourself to a flirty new outfit (anything lace or leather or both really resonates with you) and plan an evening out with your sweetie or squad. It's time to let loose and have fun.
SAGITTARIUS
Independence is calling you, Sag. If you're attached, you might be wondering what life might be like alone. If single, you're finally embracing who you are and loving your life. Either way, you're in a very empowering place right now. Take this time to get real with yourself and honor who you are.
CAPRICORN
You're finally letting yourself get your needs met, Cappy. Maybe it's going for that hottie and indulging in a no-strings attached arrangement, or maybe it's pursuing something more definite with the sweetie who's been courting you. Whatever the case is, you're in for something toe-curling. Enjoy the night!
AQUARIUS
You're butting heads with a loved one, Aquarius. No matter how much we might want to, we can't change someone. Sometimes the best and most healing choice we can make is allowing ourselves to let someone go. Maybe they'll return, but it doesn't matter because YOU matter most.
PISCES
You're about to meet someone who's going to rock your world, Pisces. The experience will be unlike anything you've ever had as it will broaden your horizons and allow you to feel something deeper and more intense. It might not last forever, but its effect on you just might.
The Pink Moon is sure to deliver on its flirty and feminine promise, bbs. Let it work its magic as you learn and love from it as best you can.