Pink just got super real about marriage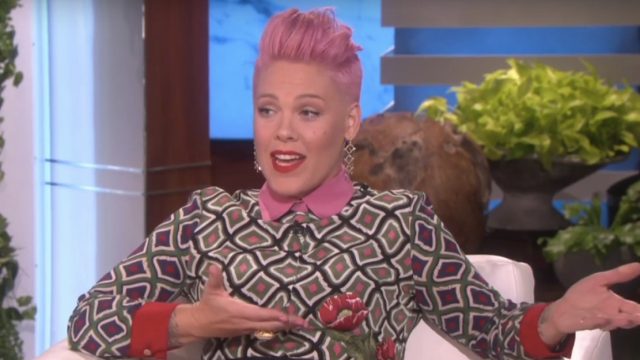 Pink is one of the realest celebrities in the business, and we love her for it. Her relationship with Carey Hart has been very public from its start. And this year, the couple is celebrating their 10-year anniversary! In the last decade, Pink and Carey have separated twice, but have always found their way back to each other. They're especially close now that they have an adorable daughter together, Willow.
Pink recently stopped by The Ellen DeGeneres Show and opened up about how difficult it can be to keep the romance alive after that long, and explained what they've been arguing about recently.
"He always falls asleep putting Willow to bed," the singer explained. "The other night I said, 'Are you going to stay up tonight?' And he said, 'I would like to.' I said, 'I don't really know what that means. Should I light candles and open wine and put on a show? Are we going big here? Or are you going to fall asleep again?'"
You could probably already see this coming, but spoiler alert: There was no "going big" that night.
"So, I lit the candles and opened the wine, and an hour and a half later…" she trailed off, insinuating that Carey had fallen asleep. "And then he wakes up eventually. I'm pretending to be asleep. He comes in bed — it's pitch dark, he cannot see my face — and yet he rolls over and says, 'What's wrong?'"
Pink is giving Carey a hard time, but we know it's coming from a place of love. At one point she jokes that they're "due" for another separation, but she goes on to say that he's "an incredible dad." Check it out here: https://www.youtube.com/watch?v=