Pink is shutting down rumors that she "cringed" during Christina Aguilera's 2017 AMAs Whitney Houston tribute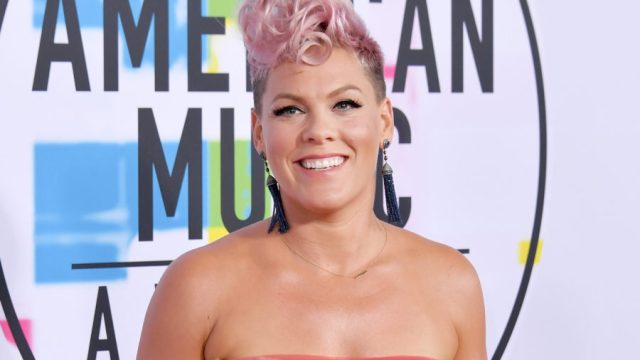 One person's cringe-face is another person's happy face, right? Right? During the 2017 American Music Awards on November 19th, Pink supposedly cringed during Christina Aguilera's Whitney Houston tribute. But don't buy into the hype — the "What About Us" singer is not here for the drama.
Pink and Aguilera have had their ups and downs since the 2001 cover of Patti LaBelle's "Lady Marmalade" for the Moulin Rouge! soundtrack, but it seems to be in the past. In a recent red carpet interview with Entertainment Tonight, Pink said,
"Her and I have had history and it hasn't always been wonderful, but finally, I think it just took us 15 years, and I feel like there was true love. It felt really good. I love when you're around to have a full-circle moment and that was a full-circle moment for me because — in all honesty — I'm a fan of hers."
Which is why Pink is not here for rumors that suggest she didn't enjoy Aguilera's performance (which was ah-mazing, btws). Pink quoted a fan's tweet and added:
Here was the facial expression in question.
It appears as if Pink was listening intently with appreciation and emotion. (And side note: Can we stop scrutinizing women's faces in general and just let them live. Thanks.)
In case you missed it, here's Aguilera's gorgeous performance:
https://www.youtube.com/watch?v=nUv22OHdjQU?feature=oembed
*Grabs tissues*
We're glad Pink swiftly put this rumor to rest and showed her overwhelming support for another female artist. Both women are supremely talented, and it's good to see them in such a good place. Now…how about a new collaboration, guys? We think the world is ready.