Pink's daughter filmed her first makeup tutorial, and she's a beauty guru in training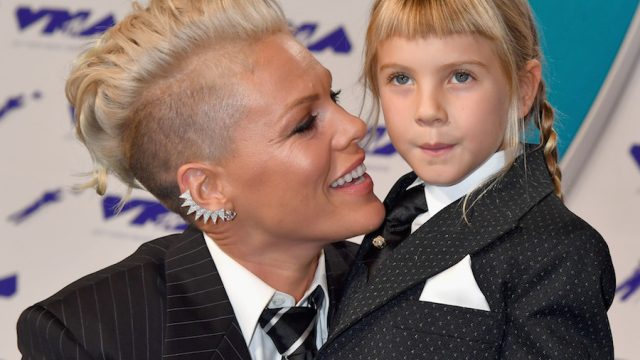 Playing with your mom's makeup is a time-honored tradition. And when your mom is pop star Pink, that beauty stash has got to be irresistible. Pink's daughter, Willow, dug into her a silver, glittery makeup case while hanging out backstage on her mom's tour. And, because it's 2018, she didn't just play with the makeup — Willow filmed her own makeup tutorial.
Pink shared Willow's "first makeup tutorial" on her Instagram, and it's (almost) too cute to handle. In it, Willow, wearing an AC/DC shirt, creates a colorful makeup look that's very Jem and the Holograms. First, she applies a fuchsia lip color, followed by blush and mascara. Not content with just a bold lip, she then applies turquoise to her forehead and under her eyes. She finishes off the look with glitter, because, of course.
In true beauty vlogger fashion, the video is sped up. She even holds the products up to the camera so we can see what she's using. We can't handle this cuteness.
Check out the video for yourself, below.
https://www.instagram.com/p/BgklvhTFYb8
This clearly isn't the first time Willow has gotten into mom's makeup bag, either. So she truly has a knack for beauty! Pink shared a selfie with Willow and her son, Jameson, on March 10th showing Willow in a very avant-garde makeup look.
https://www.instagram.com/p/BgKiMytlpCc
Willow is seen rocking a look very similar to the one in her recent tutorial (is this her signature lewk? We hope so!). Just a thought: If Willow had a YouTube channel, we'd totally subscribe.