Pink clapped back after a tabloid accused her of canceling a concert to hang out at the beach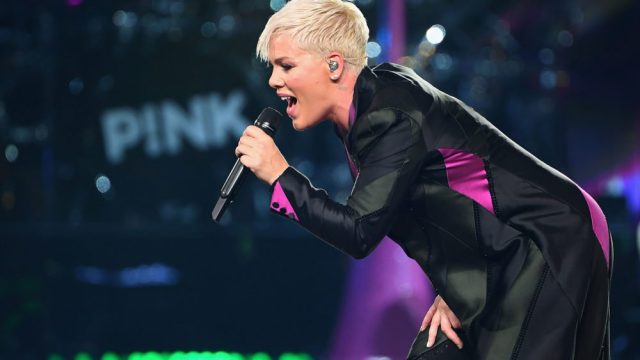 After paparazzi and trolls claimed that Pink canceled a concert to go to the beach with her family, she is firing back. The "What About Us" singer, who's currently embarking on the Australian leg of her Beautiful Trauma World Tour, recently postponed her first Sydney show due to illness.
Yesterday, August 2nd, it was announced that the singer had a respiratory infection and had been advised against going ahead with her show by doctors. After the announcement, paparazzi photos of Pink, her husband Carey Hart, and their two young children on the beach in Byron Bay began circulating. Many of the photos entailed headlines like, "Pink's Sydney concert cancelled as she chills in Bryon Beach."
Pink clapped back in a lengthy Instagram post.
"I don't need to clear this up, but out of respect for my fans I will attempt it. I scheduled this tour meticulously, trying to do what was best for my children, while also putting on the best and most physically demanding and beautiful show of my life," she wrote. "This break in Byron has been scheduled since 2017, as a way to get outside the hotel and the winter and have some time with my children."
Pink went on to reveal that both she and her two kids had been sick twice during the Australian leg of the tour, adding that while she pushed through during her first bout with illness, the latest infection has been worse, requiring her to make multiple visits to doctors in Byron (while also taking care of her kids).
The singer went on to criticize the backlash she's received for postponing the show, citing her lengthy touring career as proof that she doesn't make a habit of canceling shows or disappointing fans.
"You can think whatever you want, it's your right, but I have never taken advantage of any one in my entire life. I have never f-cked off while disrespecting hard working people who spend money to come see me play," Pink wrote. "I have never phoned in a single tour, I have an impeccable record for not cancelling." She also noted that the recent negativity makes her  long "for a nicer world."
Pink concluded her message by reiterating that she'd be back on stage for her August 4th show in Sydney—whether she was fully recovered or not. Pink doesn't need to justify her actions to anyone, but we're applauding her candor and hoping her words remind everyone to judge less and love more.
Feel better soon, Pink!