Pink Calls Her Marriage "Awful, Wonderful, Comfort and Rage" in a Candid Post
Pink always keeps it real.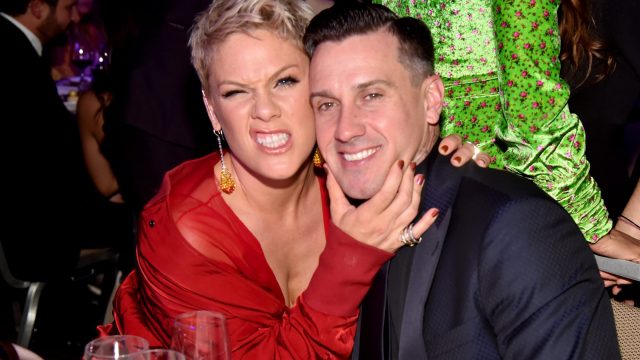 In case you were under any illusions that marriage is easy, Pink just wrote an Instagram post bluntly explaining that it is not. Of her brutal/beautiful marriage to former motocross racer Carey Hart, Pink wrote, "Marriage is awful, wonderful, comfort and rage. It is boring, terrifying, and a total nail biter. It is loving another fallible creature while trying to love yourself." Of course, Pink always keeps it real.
The caption runs alongside a picture of Pink (and, crucially, her wine glass) embracing Hart, to whom she's been married since 2006. The couple looks blissfully happy in the photo—and we don't doubt that they are—but the singer is open about the challenges she and Hart have had to work through to get there over the course of their 14-year marriage, including a year-long separation in 2008.     
"He's still my favorite sweet little dirtball. He and I have been at this a long time, and it is our relentless and stubborn idealism that keeps us together," Pink wrote.
She also recognized that they are usually "either fighting or laughing," and credits couples therapy for helping them experience more of the latter. (Marriage counseling is also what brought the two back together after their separation.)  
"Therapy isn't for weak people or hippies or liberals. It's for broken people that want to be whole. It's for runaways that want a family. It's a lesson on how to sit down and listen. How to love yourself so that the other person can, too," she wrote in her September 14th post.
This is not the first time Pink has sung couples therapy's praises: Last year, Pink told Carson Daly on the Today show that she and Hart have been in counseling for "almost our entire 17 years that we've been together."
"It's the only reason we're still together," Pink continued. "He speaks Polish, I speak Italian, and [our therapist] speaks both. We don't speak the same language. We come from broken families, and we had no model for: How are we supposed to keep this family together and live this crazy life? And there's no book that says, 'Here's how to do this.' So we go to counseling, and it works."       
Pink ended the post by expressing her gratitude that she and Hart "made it to this photo." For our part, we're grateful to Pink for her candor about this crazy lil' thing called monogamy, and we hope her honesty normalizes the more difficult aspects of marriage—and inspires people struggling in their own relationships to seek whatever counseling, therapy, or honest conversations they may need.