Pink is "letting go" of her hair with a new buzz cut, and Selma Blair loves it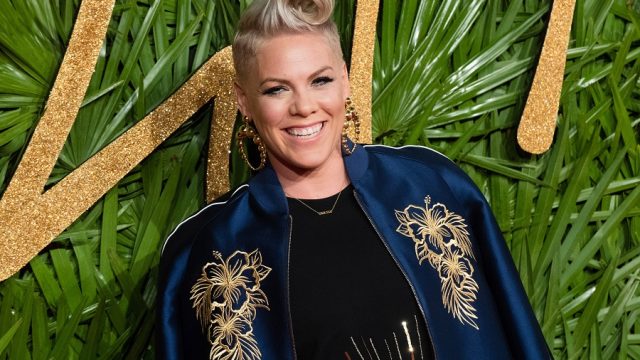 Even though on the surface hair is just hair, most of us know that our strands represent a pretty personal part of our appearance and overall identity. So going for any major hair change can feel like a big deal—as Pink just showed when she posted a photo of her new buzz cut on Instagram.
Pink has tried all kinds of bold hair looks in her nearly 20-year career. Of course, she burst onto the scene in 2000 with her vibrant, magenta-hued pixie cut to match her stage name. But she's entering a new decade with a new look entirely, revealing that she shaved her head in an Instagram post on Thursday, December 5th.
Pink shared a shot of herself holding onto her blonde hair post-buzz, captioning the stunning shot, "Letting Go."
She also shared a photo of her hair on the floor taken by her stylist, Pamela Neal, alongside a few requisite scissor emojis, to her Instagram Stories.
It certainly seems like her hair change represents a new moment in her life—last month, she told Entertainment Tonight that she plans to take a break from music in 2020 to spend time with her family. So what better way to ring in a new year than with a new look?
https://www.instagram.com/p/B5tpN8FAD1K
Of course, the comments began rolling in quickly, with fans and famous faces praising Pink's new 'do. Among those who love her new buzz is Selma Blair, who commented "Twins!!!!" with a heart emoji. Blair herself recently debuted a shaved head on Instagram amid her treatments for multiple sclerosis.
Blair has been open about her own journey with her hair, sharing that she's learning to accept how her hair has changed as it grows back in. And we love to see these women supporting each other like this.
https://www.instagram.com/p/B4dURZ7nsor
Kate Hudson also commented on Pink's new crop, calling the change "the most liberating!" with a heart and hands-up emoji. She sported a buzz cut back in 2017 for her role in an upcoming movie, and while she's since grown her hair back out, she seemed to love trying the new look on for size at the time.
https://www.instagram.com/p/BZaAxZ_A4WH
We can't wait to see more of Pink's new look. And even though we're sad we won't be getting a new album from her next year, we're all about her taking a break and spending time with her lovely family.