Pierce Brosnan shared the most moving memory of Robin Williams to honor the anniversary of his death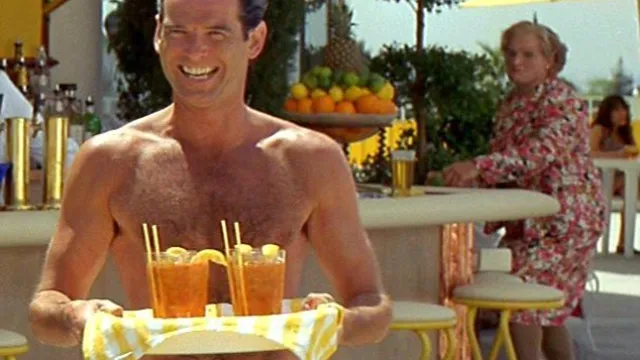 It's truly hard to believe, but next week will mark three years since Robin Williams' death, and his legacy continues to live on in the memory of his friends, family, and costars. Actor Pierce Brosnan just reminisced about working with Williams on Mrs. Doubtfire in a moving Instagram post, and it will make you miss the comedy legend all over again.
Though he had many great roles in his nearly four decades as an actor, Williams' iconic role as Mrs. Doubtfire will forever be one of his most beloved. And in honor of the third anniversary of Williams' death, his pal Brosnan shared the sweetest Instagram post about what it was like to work on the film together.
Filmed all the way back in 1993, Brosnan says he remembers it "like it was yesterday," adding, "I thought we would be there all morning trying to get the shot, Robin nailed it on the second take," no doubt describing his costar's effortless acting chops and ability to tackle every scene so perfectly.
"I am so proud to have been part of that movie and to have known the great Robin Williams."
Brosnan has spoken out before about his relationship with Williams, telling UsMagazine.com in the days after his death, "It is a deeply sad time for us all on the loss of Robin Williams."
Of his time on the Mrs. Doubtfire set, Brosnan added, "My first day on set, they said, 'Do you want to meet Robin?' I had never met the man, I was so excited. I was so thrilled to have this job in the company of this great star comedian."
"I walked into the trailer and there was Robin in a pair of Ugg boots, hairy legs, shorts, Hawaiian shirt and hairy chest. That's how I met Robin Williams, and that's how I met Mrs. Doubtfire. And I had the time of my life. Every day was just sheer magic with the man. His hilarity, his grace, his brilliance of mind and soul. His reverence, sincerity. [It's a] deep loss."
Though the loss of Williams is still painful, we love when his loved ones share memories like this. We hope they know just how much he meant to the world.