The "picnic in a jar" trend is one we can already see flooding our Instagram feeds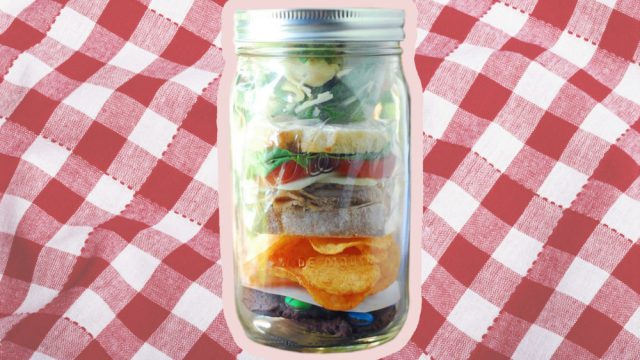 Nothing says summer like a picnic at the park or a tailgate BBQ at the beach. But we must admit, packing and hauling all that food to said festivities can cause us to break a sweat (in a bad way). That's why we're all over this picnic in a jar idea Pinterest recently brought to our attention.
According to Pinterest's 2018 Summer Entertaining Report, picnic in a jar searches have gone up +346% since last year. Plus, they're easy to make, incredibly cute, and will be the highlight of your upcoming beach day. What's not to love?
To begin, you're going to need one mason jar for each individual picnicker. This shouldn't be a problem for you Pinterest princes and princesses of the world — we're sure you have a plethora of jars in your craft stash. Just make sure each jar has a lid for mess-free transport.
Next, trace the bottom of the mason jar onto parchment paper and cut the rounds out. These will sit between the courses of your lunch and keep everything organized. Tonia from The Gunny Sack blog filled her jar with chips, salad, a cookie, and even a sandwich. You can strategically layer your courses so appetizers are at the top and desserts are at the bottom.
Make sure each food item you place into your jar can be easily removed for mess-free eating. To make enjoying your picnic in a jar even easier, tape a utensil to the side with washi tape.
This is just one example of what a picnic in a jar can look like. We're also in love with mason jar salads, which are basically the same idea but you remove the parchment rounds and layer the jar with fruits, veggies, and condiments.
Mix everything together when you're ready to eat — yum, yum, and more yum.
If it's a brunch picnic, try out a parfait/trail mix and yogurt or a full-on egg dish in a jar:
Or take Taco Tuesday to go:
Once again, Pinterest has inspired us to live the cutest life we can muster. We're kind of feeling as though we need to eat every meal out of a mason jar now. It just feels right.