This pic of Jimmy Kimmel working on his Emmy jokes with his daughter is too adorable to fathom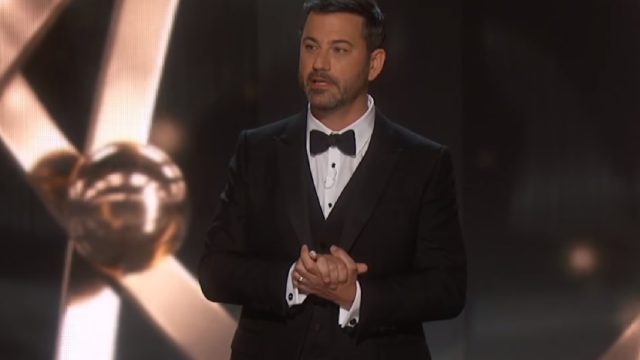 When you're hosting the Emmy Awards, you need all the help you can get. Luckily, Jimmy Kimmel isn't afraid to credit one of the key members of his creative team.
https://www.instagram.com/p/status
"Last minute #Emmys punch up with my best joke writer," Kimmel captioned the picture.
Can you get better help than that of a creative 2-year-old? Jane is a lovely little lady who was born in 2014, causing her comedy-loving Dad to shed a few tears.
"'My wife is doing fine, I'm fine too. I was so brave. I cried a little but I didn't scream," Kimmel said to his Jimmy Kimmel Live audience shortly after her birth. He followed that up with a few jokes, one being "We had a little girl, we named her after my grandmother — her name is Grandma Kimmel."
Jane will be more than happy to know that her Dad did an excellent job hosting the show last night. In fact, here's the monologue she worked so hard on. Who knows? Maybe Jane will follow in her father's funny footsteps.
https://www.youtube.com/watch?v=v2ZxwsB_2_M?feature=oembed
Now, Jane was likely asleep when the show aired last night, but surely she caught up with the news of the performance this morning. There's nothing sweeter than a father/daughter bond, and it's amazing that Kimmel wants to include little Jane in everything he does!