This photographer used Noah Centineo in these steamy "boyfriend" pics, and we can't breathe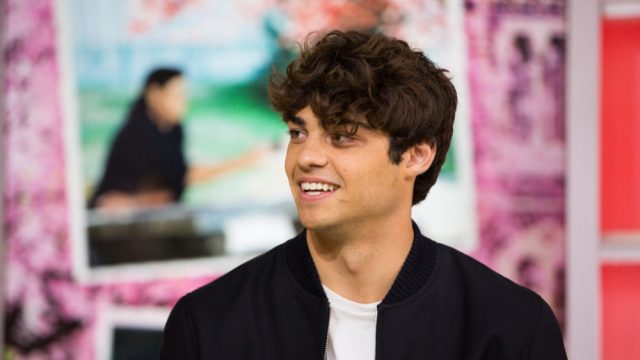 After becoming a certified Internet Boyfriend this summer thanks to back-to-back Netflix roles, Noah Centineo is back at it again—this time, in "Dear Love," a new photo series from acclaimed artist and photographer Sarah Bahbah.
The photos series—the first eight of which have been posted to Bahbah's Instagram—features the 22-year-old actor looking directly into the camera, each photo accompanied by a contemplative caption written by Bahbah. In an interview with Teen Vogue, Bahbah revealed that the shoot came together quickly and started over DM (Centineo initiated, in case you were curious). The artist, who previously worked with Dylan Sprouse on her "This Is Not For You Part II" photo series, said she and Centineo then met for coffee on September 14th, and did the shoot within days of meeting.
In the series, Centineo appears introspective, contemplating the looming end of a relationship. Bahbah told the sitethat the photo series "celebrates the complications of all aspects of human connection—connections [that are] shared and connections within yourself. In this series we watch the protagonist search past surface-level connections."
"We watch as he turns introspectively and begins to understand himself and his needs," she continued. "'Dear Love' holds our hands as we come to understand the worth and weight of the reality of solitude, dreaming, and manifestation. It's better to be alone and love yourself than be with someone and feel lonely."
Check out the first batch of photos of Centineo from "Dear Love":
https://www.instagram.com/p/Bn7cEShHVyy
https://www.instagram.com/p/Bn7cHDbHo6X
https://www.instagram.com/p/Bn9hOrVn7aP
https://www.instagram.com/p/Bn9hcQlHjXJ
To quote Peter Kavinsky, "Whoa, whoa, whoa."
If you can't stop swooning over these pics, worry not, because a lot more are on the way. On her Instagram Story, Bahbah revealed that this first batch of photos is only the beginning. She wrote, "Thank you all for the love. ?  This is just the first scene. 10 more days of storytelling to go?."
Keep an eye out on Bahbah's Instagram over the next week to see more stunning shots from "Dear Love"—and to continue thirsting over Noah, of course.