This phone case prints instant pictures like an old-fashioned Polaroid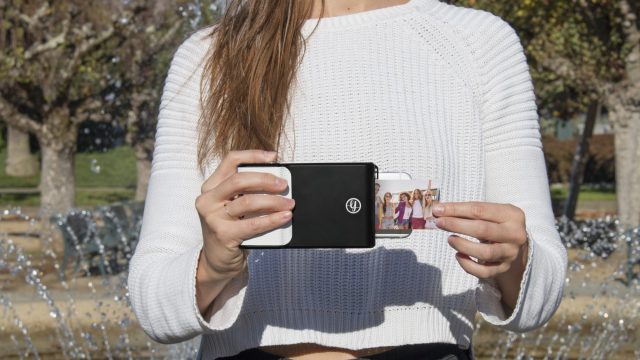 So, here's a not-so-secret fact about your's truly: I'm one of those girls who takes hundreds of pictures on her iPhone. That's not very different from the average smartphone user, I know. But what you don't realize is that I then have them printed and then spend hours scrapbooking said photos. I love to have photos printed (and then subsequently covered in glitter heart stickers).
Well, I've found my next purchase: Prynt case, a phone case that instantly prints pictures like an old-fashioned Polaroid. As Mashable's tech correspondent Ray Wong explains, "It prints photos and brings them to life." Guys, it looks downright amazing and, more importantly, like a lot of fun!
As the well-lit video above shows, the Prynt case is a retro-looking box reminiscent of a Polaroid camera (another personal favorite of mine — lovers of digital cameras will have to pry my old Polaroid and Fujifilm Instax MINI from my cold, lifeless hands). Prynt uses mini Zink photo paper strips to print the pictures stored on your phone. The device uses thermal printing technology, so there's no ink, just heat, to create the image. It sounds like Harry Potter-style magic to me, but hey, I like magic.
The folks behind Prynt took a page out of Instagram's book and the case comes with all sorts of filters and stickers. There are currently Prynt adapters for iPhone 6s, 6, 5s, 5c, 5, and Samsung Galaxy S5 and S4. Case color options are either black or white (I personally think the black looks pretty neat), and while it's definitely bulkier than the usual phone case, it's pretty darn sleek for what it is.
However, perhaps Prynt's coolest feature is its use of augmented reality. That's right, there's more to the app than its already-awesome ability to work as a miniature printer.
Within the Prynt app, after you capture a photo, you take a short, six-second video afterward that "attaches" itself to the photo via the cloud. After you print it, anyone can use the app to scan the photo and reveal the video.
Prynt founder Clément Perrot claims users "will soon be able to attach other types of content: a song clip, a still shot of something, GPS coordinates." Perrot adds that users could almost use it like a digital business card, taking a picture of themselves and a person and attaching an image of their phone number or contact information. Those who worry about privacy need not fear: Users have the option to keep the content private so only select people can unlock it.
While the augmented reality addition is a neat perk, Perrot makes it clear that Prynt is all about simplicity and fun. Prynt was created to be a small homage to a nostalgic piece of technology. "We just wanted people to have the same experience as with old printing cameras—you take a picture…and it just prints."
Perrot, you had me at "it just prints."