We are in love with this bright and fiery phoenix hair trend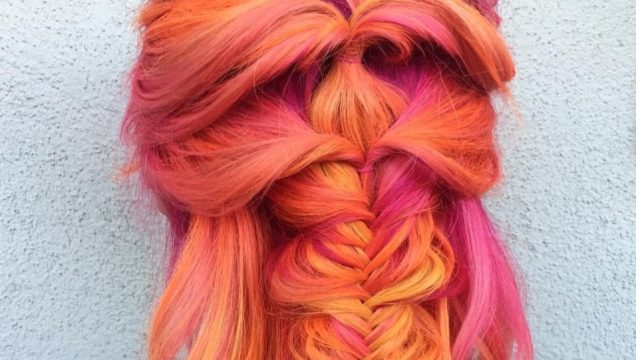 There's something utterly soothing about scrolling through the trending hair hashtags on Instagram. While the colors and styles of the season are always in flux, right now we feel a bit awe-struck and transfixed by the fiery phoenix hair trend currently circulating the hair hashtags of Instagram.
The boldly colored hairstyle looks as fiery as it sounds, with fashion-conscious people all over the globe opting to jump on the trend and dye their locks a combination of bright red, orange, purple, and yellow.
Some people have taken it to another level altogether and have glow-in-the-dark phoenix hair, which immediately makes us think of past glow-in-the-dark hair trends that have favored blue and purple mermaid shades.
Anyone who can successfully make their hair look like fire gets a nod from us, especially considering all the creative color palette options to choose from.
For example, this woman has pink-red flames.
While this woman is working a warmer, curly phoenix look.
This dark and yellow combination gives a nice dramatic depth to the layers of color.
While others opt for a richer purple undertone.
The layered flame look is even more intense when it glows under a black light.
It even looks spectacular in an updo or braid.
https://www.instagram.com/p/BKRBcHEDrzE
The flowing, gentle curls are reminding us of beautiful, moving flames and we are in love.
This bright look would be the boldest hairstyle to finish off 2016.
https://www.instagram.com/p/BNOxGCBgLFM
https://www.instagram.com/p/BNK0Ni5gNVS
This phoenix hair trend is literally fire and we are legit obsessed.