Phoebe Robinson's "Solange on a budget" Brooklyn apartment is literally our dream home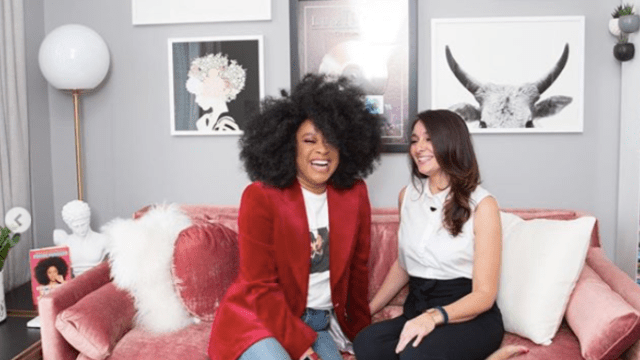 If you don't know Phoebe Robinson, get to know her: She's a comedian, writer, actor, and host of the wildly successful podcast 2 Dope Queens. If you don't know about her perfectly decorated Brooklyn apartment, keep scrolling. Robinson's new Park Slope pad was featured on Apartment Therapy, and our Pinterest fingers are on fire. Karen Asprea designed the place, and it's a cross between a mid-century modern hotel, The Wing, and a Pinterest board called "designing with hints of millennial pink."
Robinson fell in love with the apartment two months ago when she saw its giant windows. "I love natch light and every room was just like glowing and I was like okay, okay, I can see living here," she said.
She also joked that when designing the place, she had to reel in her HGTV fantasies and let Asprea do what she does best.
"I've been watching a lot of HGTV and that's like not what a designer wants to hear, because it means, 'Oh, this person has a lot of ideas and they don't know how to execute them,'" she said. "So for the office I was like 'Karen, what if we got a sliding barn door?' And she was like 'You literally don't have the infrastructure to pull that off. This is New York. Leave the doors as they are.'"
Also, as every cohabitating couple knows, merging your unique design tastes can be difficult, and Robinson's boyfriend didn't exactly share her flair for color.
"I think it was a lot of just me being more colorful and him being like, 'Okay if you make everything colorful, maybe in a year you're not gonna want to have a purple couch or bright orange side table,'" she said. "So, it was a lot of making sure we muted it a little, but still had some life...It's like masculine and feminine in a really, cool modern way."
Robinson referred to the entire apartment's style as "Solange on a budget," and wow, what a vision board.
https://www.instagram.com/p/Bab6yVZhESx
To see more photos from her unreal apartment, head over to Apartment Therapy.