What is "Phantom Thread" about? It's an enigmatic love story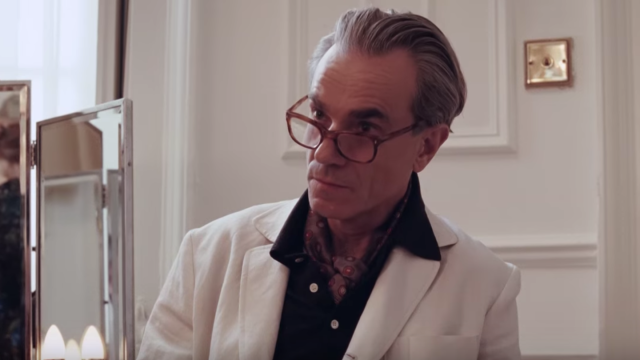 Jennifer Lawrence may not be a fan of Phantom Thread, but with six Oscar nominations to its name including Best Picture, it's one of the films to follow this 2018 Academy Award season.
With so many popular and extraordinary movies in the Best Picture category this year, it's been tempting to settle in and binge-watch all nine of them — but more likely than not, you've only crossed a handful off your list. If Phantom Thread escaped that list, don't panic: You don't have to go into the award ceremony totally blind.
Phantom Thread is a historical period drama, though it could also be classified as a romance. The film is set in 1950s post-war London and follows famous dressmaker Reynolds Woodcock, a perpetual bachelor who is — as J.Law so aptly put it — a "narcissistic sociopath." The movie is set in the alluring world of high fashion, radiant dresses, and sophisticated clients. The plot is centered around the tenacious Alma, a model who becomes one of Woodcock's many short-term and (to him) largely unremarkable lovers — only she refuses not to be noticed.
The film is directed by Paul Thomas Anderson and stars Daniel Day-Lewis, Vicky Krieps, and Lesley Manville. Day-Lewis is up for an Oscar for Best Actor, Manville is nominated for Best Supporting Actress for her role as Woodcock's no-nonsense sister Cyril, and Anderson is up for Best Director. Phantom Thread has also amassed nominations for Best Original Music Score, Best Costume Design, and Best Picture.
Phantom Thread has been called both "gorgeously cinematic" and "cloistral and sickly," but one thing is certain: The film makes an impression.
Watch the trailer here:
https://www.youtube.com/watch?v=xNsiQMeSvMk?feature=oembed
Hosted by Jimmy Kimmel, the 90th Academy Awards will air on Sunday, March 4th on ABC at 5 p.m. PST.