These pets could not be more ready for Easter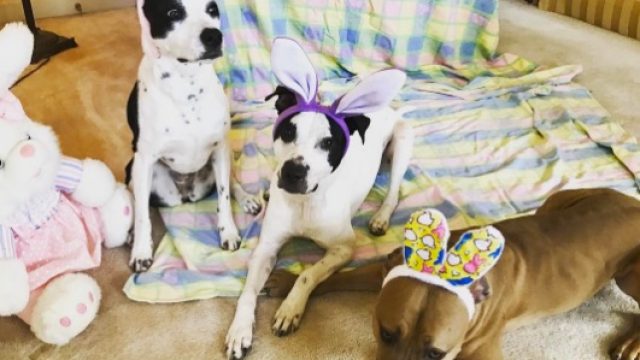 Easter is tomorrow, and it is the perfect time to be festive. People love dressing their pets up in Easter costumes, and frankly, there is nothing cuter. Or gets us more ready for Easter.
Usually, when you think of Easter, you think of candy. There are also eggs and fun DIY decorating projects. Easter fashion is also really fun, especially when the weather is nice. You can wear cute dresses, sandals, and a light jacket. And you can't have Easter without the Easter bunny.
But our favorite part of Easter might be the adorable photos of pets in costumes.
First of all, the Easter bunny is a common costume. If you have a dog or cat who will pose wearing a pair of rabbit ears, take as many pictures as you can!
Look at this cute little Siamese Cat who has clearly mastered the fine art of the Snapchat filter.
https://www.instagram.com/p/BS6dAwcBhYr
These three Cavalier King Charles siblings have clearly learned the art of the smize, in addition to their very adorable costume choices. And those filters are perfect.
It's hard to tell who's cuter, the eggs or the kitty who looks like it's trying to eat the eggs.
It's hard to tell if these three are genuinely excited about their Easter costumes, but our friend at the top left is definitely feeling…something.
There is truly little cuter than a black cat in a basket.
These Boston Terriers are surely exhibiting a restraint that isn't easy.
And here's a bonus Easter bunny!
We are definitely ready for Easter.