Watch Sia's Mrs. Tiggy Winkle go up against an electric fence in this exclusive "Peter Rabbit" scene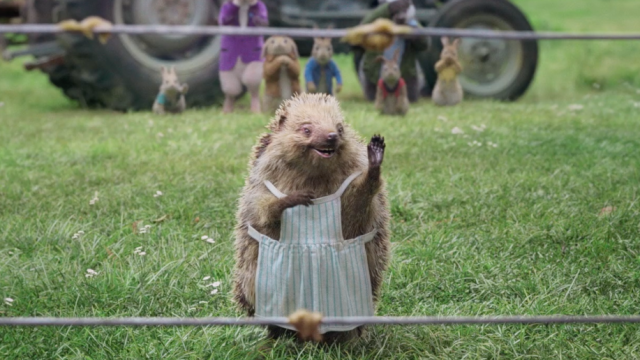 What would you do for a delicious taste of peanut butter? Probably not lick an electric fence. (Hopefully not lick an electric fence.) But that's because we're humans and have peanut butter at our disposal every single day — rabbits, foxes, pigs, geese, rats and porcupines? Not so much. So when they find peanut butter, they're going to do whatever they can to eat the peanut butter…and yes, that might mean going up against an electric fence.
Do not not worry! No animals were harmed by said electric fence, but a few do get stuck with quills — Mrs. Tiggy Winkle's quills, to be exact. HelloGiggles has a brand new look at a scene from the upcoming film Peter Rabbit, which finds our furry forest friends facing down an electric fence installed by the cranky young Mr. McGregor. According to Mr. McGregor, the animals are being a menace; according to the the animals, Mr. McGregor is really the trouble maker since he's the one keeping them out of his garden, and going to extreme lengths to do so.
The clip features an all-star voice cast, including James Corden as Peter Rabbit, Daisy Ridley as Cotton-Tail (she has the green jacket on), Margot Robbie as Flopsy (the red jacket), and Elizabeth Debicki as Mopsy (the yellow jacket). As for apron-wearing Mrs. Tiggy Winkle, she's voiced by none other than music legend Sia herself.
Judging by the clip, it looks like Mrs. Tiggy Winkle gets her "excitement." And also her peanut butter. You can see what other high jinks Peter and Co. unleash on Mr. McGregor when Peter Rabbit hits theaters on February 9th.