These Peter Pan tattoos are perfect for everyone who still hopes they never grow up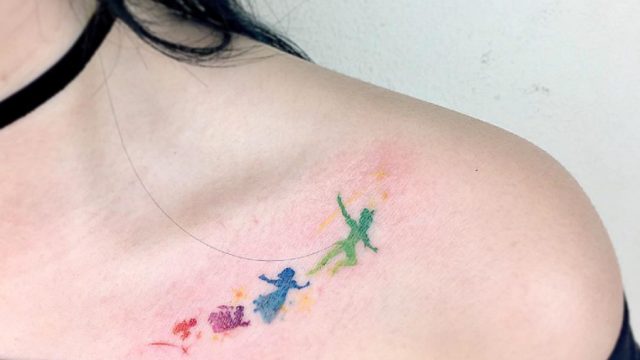 Maybe it's just us, but lately we're seriously craving escape. And when we crave escape, one of the first places our minds go to is Neverland. Seriously! The entire concept of never growing up and being surrounded by light and levity basically always is nothing but appealing, especially when we're stressed and overwhelmed AF. And these beautiful, hope-filled Peter Pan tattoos are a gorgeously artistic way to pay homage to that sense of freedom.
When it comes down to it, Peter Pan was just a work of art. From minimalist Peter Pan tattoos to the brightest and boldest around, there's no wrong way to nod to your childhood hope with a Peter Pan tattoo.
1. How gorgeous is this vivid wrap-around tattoo? We love the colors!
https://www.instagram.com/p/BMvhotzgOx1
2. We adore this extremely delicate blackwork Peter Pan tattoo, too.
3. And these silhouettes are oh-so-classy! What an amazing way to upgrade a Peter Pan tattoo and make it a little more chic.
4. This image is such a major classic.
https://www.instagram.com/p/BC2koM3lTXW
5. This totally bright and nearly neon tattoo is a perfect ode to the beauty of Neverland.
6. Though we also totally love this splashy, watercolor tattoo.
https://www.instagram.com/p/BMzCMHqDrAu
7. This one is perfect if you want a color tattoo that's a little artistic, but still subtle.
8. And these tiny little stars are a lovely, nostalgic nod to Peter Pan.
https://www.instagram.com/p/BMhiLxaDSLA
These are all seriously so dreamy! We love them so much, and will definitely be getting our own ode to Neverland and all the hope it once brought us. Here's to hope, friends.