Peter Mayhew, aka Chewbacca, calls Carrie Fisher the "brightest light" and we completely agree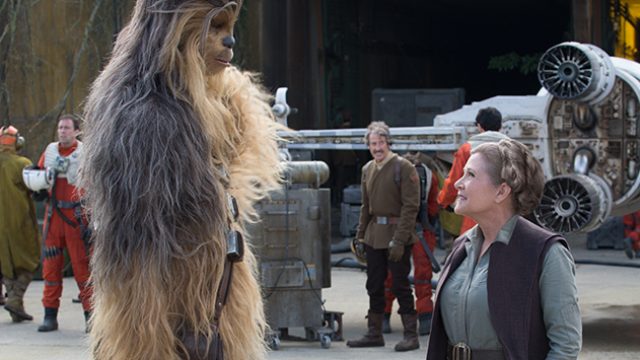 In the wake of Carrie Fisher's death, dozens of her celebrity friends have taken to social media to mourn the loss of the beloved icon. Star Wars creator George Lucas, and costars Harrison Ford, Mark Hamill, Daisy Ridley, and John Boyega have all released statements regarding Fisher's passing.
The latest Star Wars cast member to express his condolences is Peter Mayhew, who played iconic wookiee Chewbacca in the original Star Wars trilogy and was among the original cast members to return for The Force Awakens. He shared a photos of himself and carrie, writing,
"There are no words for this loss. Carrie was the brightest light in every room she entered. I will miss her dearly.
– Mayhew
Since news of her passing broke, Carrie's costars from the original trilogy have had touching things to say about her. Mark, who played Luke Skywalker, the twin brother of Fisher's Princess Leia, posted a moving statement to Facebook. He wrote,
"It's never easy to lose such a vital, irreplaceable member of the family, but this is downright heartbreaking. Carrie was one-of-a-kind who belonged to us all- whether she liked it or not. She was OUR Princess, damn it, & the actress who played her blurred into one gorgeous, fiercely independent & ferociously funny, take-charge woman who took our collective breath away... Thanks Carrie. I love you, mh.
We're still shocked and saddened by the passing of Carrie but we're so moved at how she much of a friend she was to her costars.