Peter Capaldi is leaving "Doctor Who," which means we're getting a new Doctor!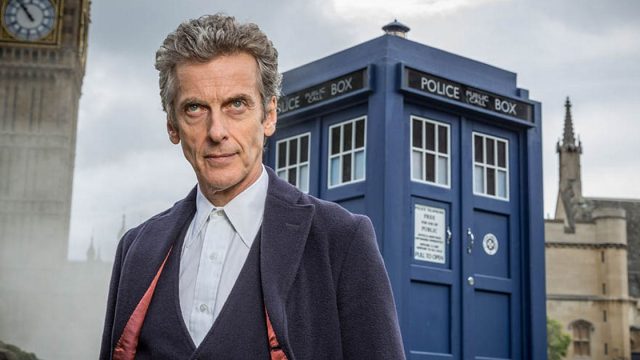 It seems we can't have anything good and pure in this world, as Peter Capaldi is set to leave Doctor Who later this year.
It seems that the next season of Doctor Who is going to see the show undergo a bit of a shakeup. Not only is it the first season since Jenna Coleman left the show, but it's also the first season with the new assistant, Bill, played by Pearl Mackie.
And now it's been announced Peter Capaldi, who has played the Doctor for 4 years, is set to bow out from the show at the end of 2017, and we're a little bit heartbroken.
Speaking to the radio station, BBC Radio 2, Capaldi, who is the 12th actor to play the iconic science fiction character and step inside the TARDIS, said that working on the show had been "cosmic."
"One of the greatest privileges of being Doctor Who is to see the world at its best, he said. "From our brilliant crew and creative team working for the best broadcaster on the planet, to the viewers and fans whose endless creativity, generosity and inclusiveness points to a brighter future ahead. I can't thank everyone enough. It's been cosmic.
Peter Capaldi's exit comes after it was announced the next season of Doctor Who, the show's 10th since it returned in 2005, would also be the last of current showrunner, Steven Moffatt, who once called working on the show "the best job I'll ever have."
"For years before I ever imagined being involved in Doctor Who, or had ever met the man, I wanted to work with Peter Capaldi," Moffat said about Capaldi's exit. "I could not have imagined that one day we'd be standing on the TARDIS together. Like Peter, I'm facing up to leaving the best job I'll ever have, but knowing I do so in the company of the best, and kindest and cleverest of men, makes the saddest of endings a little sweeter.

"But hey, it's a long way from over. Peter's amazing, fiery, turbulent Doctor is still fighting the good fight, and his greatest adventures are yet to come. Monsters of the universe, be on your guard - Capaldi's not done with you yet!"
Fret not, however, as we're also going to be gifted with last Christmas Special written by Moffat and starring Capaldi. Indeed, it appears that there'll be a regeneration at Christmas this year, which, we don't know about you, makes us quite excited. We've got our fingers crossed that the new Doctor will not ONLY be a woman, but a woman of color, too.
What's more, Steven Moffat is being replaced by British TV talent Chris Chibnall, who was behind the British crime phenomenon Broadchurch and has previously lent his talents to Doctor Who and Torchwood, too.
Regardless, we know that we're going to be sad to see Peter go. However, every cloud and all that, we can't wait to see who's going to take over from him, and see what direction Chibnall will take the show once his tenure as showrunner begins!
Doctor Who returns to BBC America on Saturday, April 15th at 9/8c.