Pete Davidson had the most feminist clapback to anyone who doesn't like his age difference with Kate Beckinsale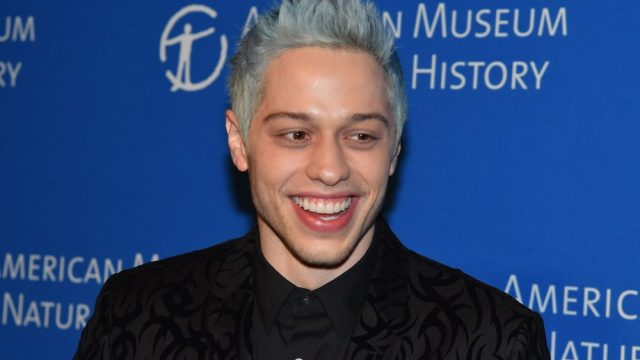 Pete Davidson's relationship status has been making headlines ever since he started dating pop star Ariana Grande in spring 2018 (even though they broke up months ago). This means the media is officially losing it over the fact that the SNL star has been spotted going on dates with actress Kate Beckinsale. And always game to tackle rumors and speculation about his life head-on, Davidson addressed the gossip during a recent appearance on "Weekend Update"—specifically calling out the public's interest in their age difference (Davidson is 25, Beckinsale is 45).
"Apparently, people have a crazy fascination with our age difference," Davidson said after being asked about his new relationship on the Saturday, March 9th, show. "But it doesn't really bother us. But, then again, I'm new to this, so if you have questions about a relationship with a big age difference, just ask Leonardo DiCaprio, Jason Statham, Michael Douglas, Richard Gere, Jeff Goldblum, Scott Disick, Dane Cook, Derek Jeter, Bruce Willis, Harrison Ford, Tommy Lee, Alec Baldwin, Sean Penn, and whoever the president of France is, Mel Gibson, Billy Joel, Mick Jagger, Sylvester Stallone, Eddie Murphy, Kelsey Grammar, Larry King, Rod Stewart, and Donald Trump."
Davidson perfectly—and hilariously—called out the sexist double standard in our society when it comes to older women dating younger men, and we're cheering.
Check out the full clip (including his thoughts on R. Kelly) below. The comments on his relationship fall at about 3:23.
Touché, sir.