Pete Davidson Just Launched an Instagram Account With This Former NFL Star
The duo's IG profile comes two months before Super Bowl LVII. Coincidence? We think not!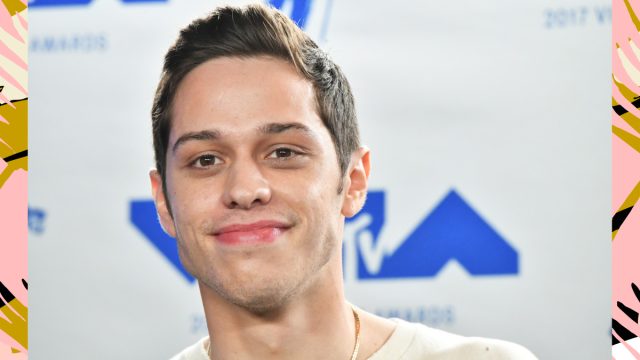 Eli Manning in? Emily Ratajkowski out? It appears the supermodel may have some stiff competition as her new boyfriend, Pete Davidson, has struck up quite a bromance with the former New York Giants quarterback — and you know things are serious when Davidson already has a tattoo in your honor.
On Wednesday, Dec. 7, the duo, who are both notoriously known for living off the social media grid, launched their joint Instagram profile. (We know you're dying to know, so here's their handle: @pete_eli10.)
Along with a sporty profile photo of the two of them, is their bio: "We both don't have Instagram so we made one together. Pete Davidson 🤝🏻 Eli Manning."
RELATED: Emily Ratajkowksi and Pete Davidson Are Reportedly Dating: Her DMs are Closed!
Davidson kicked things off with a video post in which he welcomes fans to the new page via the comforts of his NY Giants-themed bed. "Hello Instagram! I have decided to come back, but only with the GOAT," Davidson announces before panning to Manning in bed next to him.
"What's up! Your bed is so comfortable," the retired football star offers back to which Davidson responds, "Aw, thanks, man. We've been having a great time on my bed. Stay tuned for more photos on the 'gram."
The funny clip is a snippet from Davidson's NY apartment tour, which Manning had the pleasure (read: he poked jokes at Davidson the whole time and it's hilarious) of hosting on his YouTube show, The Eli Manning Show.
In full Davidson fashion, the Saturday Night Live alum got a tattoo of a NY Giants helmet to officiate their relationship. Feeling sentimental, Manning documented the moment on Instagram. "Confirmed.. Pete's a Giants fan," he captioned a snap of Davidson's new ink.
The two rounded out their first day on Instagram with a fun game of This or That? We don't want to spoil too much of the fun, but we did find out whether Davidson prefers being the big or little spoon. Hint: Davidson is an equal cuddler opportunist.
While we wish this social media endeavor was a result of a bromance, it's giving shomance vibes. Super Bowl LVII is right around the corner making the the timing of this launch a little too on the nose.
Still, we would totally be here for a Davidson-Manning Super Bowl commercial, and we'll take all the content we can get. These guys are comedy gold together!
Emily is a NYC-based freelance entertainment and lifestyle writer — though, she'll never pass up the opportunity to talk about women's health and sports (she thrives during the Olympics).
Read more