Pete Davidson dyed his hair platinum blonde, and is this another tribute to Ariana Grande?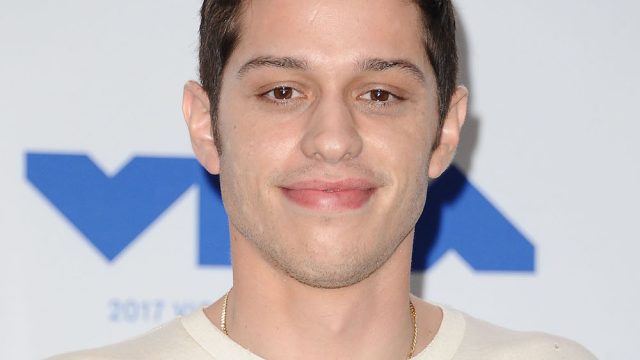 Not only are Pete Davidson and Ariana Grande rocking matching tattoos, but it seems that the couple's style is syncing up as well. While we're still recovering from news of the couple's whirlwind engagement, Pete and Ariana are steadily moving on with their lives. The latest update? Pete has gone platinum—blonde, that is.
Does this mean that bleached blonde hair for men is going to make a comeback? There's no denying that Ariana looks stunning with her waist-length, sometimes blonde hair (she usually has it brown at her roots and blonde at the ends), but it's a whole other ballgame when a man gets his hair bleached. (Many famous dudes in a new relationship has tried the bold look, from Zayn Malik to Brad Pitt.)
That said, this hairstyle works with Pete's fun-loving personality. And since it's summer, this is the perfect time to play with hair color and go light. We're kind of getting major '90s/early aughts vibes, too. Pete's hair color looks like a mix between Eminem and Sugar Ray's hair color back in the day.
Davidson gave us a glimpse of his new blonde hair on Instagram.
https://www.instagram.com/p/Bkt6mtQnIQ0
It looks like Pete is also leaning into the nostalgia of his new style. He captioned his Instagram photo: "big time adolescence."
https://www.instagram.com/p/Bkt-SkQnnVD
From the looks of this cuddly pic, we have a feeling Ariana is totally on board with Pete's throw-back style. We're loving this youthful and carefree look, and we can't wait to see how Pete styles his new 'do.